The Epistle to Philemon
Chris Knepp
The Epistle to Philemon
Reconciliation in Real Life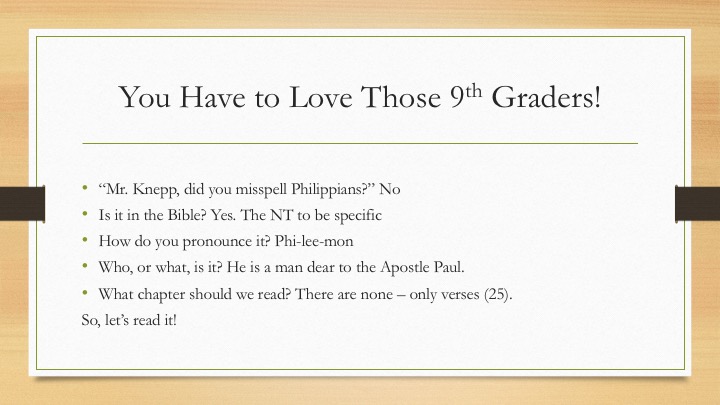 You Have to Love Those 9th Graders!
•"Mr. Knepp, did you misspell Philippians?" No
•Is it in the Bible? Yes. The NT to be specific
•How do you pronounce it? Phi-lee-mon
•Who, or what, is it? He is a man dear to the Apostle Paul.
•What chapter should we read? There are no chapters – only verses (25).
So, let's read it!
Reading the Epistle to Philemon
The Epistle to Philemon verses 1-25
Salutation
1 Paul, a prisoner of Christ Jesus, and Timothy our brother,
To Philemon our dear friend and co-worker, 2 to Apphia our sister, to Archippus our fellow soldier, and to the church in your house:
3 Grace to you and peace from God our Father and the Lord Jesus Christ.
Philemon's Love and Faith
4 When I remember you in my prayers, I always thank my God 5 because I hear of your love for all the saints and your faith toward the Lord Jesus. 6 I pray that the sharing of your faith may become effective when you perceive all the good that we may do for Christ. 7 I have indeed received much joy and encouragement from your love, because the hearts of the saints have been refreshed through you, my brother.
Paul's Plea for Onesimus
8 For this reason, though I am bold enough in Christ to command you to do your duty, 9 yet I would rather appeal to you on the basis of love—and I, Paul, do this as an old man, and now also as a prisoner of Christ Jesus. 10 I am appealing to you for my child, Onesimus, whose father I have become during my imprisonment. 11 Formerly he was useless to you, but now he is indeed useful both to you and to me. 12 I am sending him, that is, my own heart, back to you. 13 I wanted to keep him with me, so that he might be of service to me in your place during my imprisonment for the gospel; 14 but I preferred to do nothing without your consent, in order that your good deed might be voluntary and not something forced. 15 Perhaps this is the reason he was separated from you for a while, so that you might have him back forever, 16 no longer as a slave but more than a slave, a beloved brother—especially to me but how much more to you, both in the flesh and in the Lord.
17 So if you consider me your partner, welcome him as you would welcome me. 18 If he has wronged you in any way, or owes you anything, charge that to my account. 19 I, Paul, am writing this with my own hand: I will repay it. I say nothing about your owing me even your own self. 20 Yes, brother, let me have this benefit from you in the Lord! Refresh my heart in Christ. 21 Confident of your obedience, I am writing to you, knowing that you will do even more than I say.
22 One thing more—prepare a guest room for me, for I am hoping through your prayers to be restored to you.
Final Greetings and Benediction
23 Epaphras, my fellow prisoner in Christ Jesus, sends greetings to you, 24 and so do Mark, Aristarchus, Demas, and Luke, my fellow workers.
25 The grace of the Lord Jesus Christ be with your spirit.
End of the Epistle to Philemon
Background and Cast of Characters - The Epistle to Philemon
Author: Paul (and Timothy), v. 1. That Paul is the principal author becomes clear with the repeated use of "I" from v. 4 and the rest of the letter.
Recipients: Philemon "our beloved fellow worker," v. 1, Apphia "our sister," Archippus "our fellow soldier," and "the church in your house." v. 2. Philemon is a wealthy Christian who lives in Colossi and who likely heard the gospel during Paul's 3-year ministry in Ephesus. Though clearly a personal letter to Philemon, Paul intends it to be read to the entire church that meets in Philemon's home.
Subject: Onesimus, one of Philemon's slaves. He had run away, possibly having stolen money or property from Philemon. Through the providence of God, he has met Paul (who refers to him as his "son") and become a Christian. The formerly "useless" Onesimus has become "useful" (the meaning of his name), both to Paul and Philemon, v. 11, so Paul sends him back.
Background and Cast of Characters - the Epistle to Philemon
Date: Traditional view is c. 62 A.D., but could be earlier (55 or 56 A.D.) depending upon where Paul was imprisoned when he wrote the letter. Date would be similar for Ephesians and Colossians. All three letters were sent with Tychicus and Onesimus. (Eph 6:21-22, Col 4:7-9)
Provenance: One of Paul's "prison letters," vv. 1, 9, 10, 13, 23, so either Rome, Ephesus, or Caesarea.
Two issues:
(1) How far could Onesimus have ranged from his master's home in Colossae? Rome is 1300 miles away, but easier for a fugitive to get lost in. Ephesus is only 100 miles away.
(2) Paul's request to prepare a guest room for him. v. 22
Theme: The power of the gospel to transform lives and to impact human relationships so that true reconciliation can take place.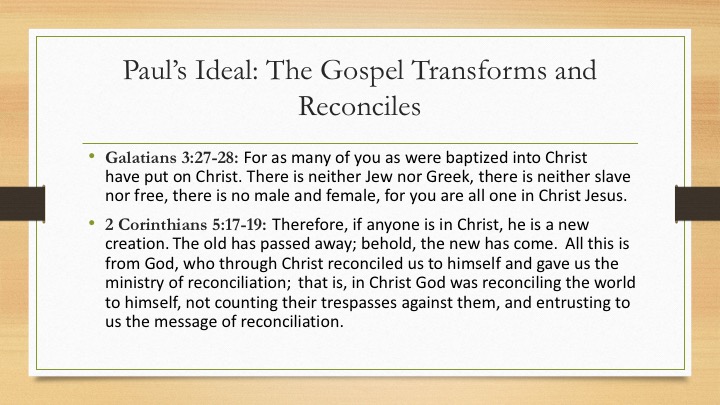 Paul's Ideal: The Gospel Transforms and Reconciles
•Galatians 3:27-28: "For as many of you as were baptized into Christ have put on Christ. There is neither Jew nor Greek, there is neither slave nor free, there is no male and female, for you are all one in Christ Jesus." 
•2 Corinthians 5:17-19:  "Therefore, if anyone is in Christ, he is a new creation. The old has passed away; behold, the new has come.  All this is from God, who through Christ reconciled us to himself and gave us the ministry of reconciliation;  that is, in Christ God was reconciling the world to himself, not counting their trespasses against them, and entrusting to us the message of reconciliation."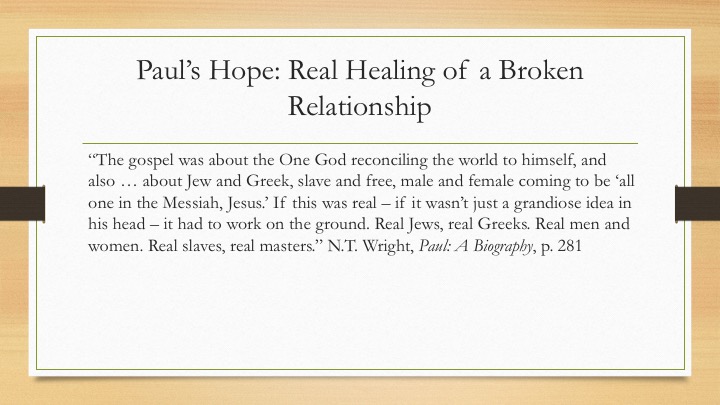 Paul's Hope: Real Healing of a Broken Relationship
"The gospel was about the One God reconciling the world to himself, and also … about Jew and Greek, slave and free, male and female coming to be 'all one in the Messiah, Jesus.' If this was real – if it wasn't just a grandiose idea in his head – it had to work on the ground. Real Jews, real Greeks. Real men and women. Real slaves, real masters." N.T. Wright, Paul: A Biography, p. 281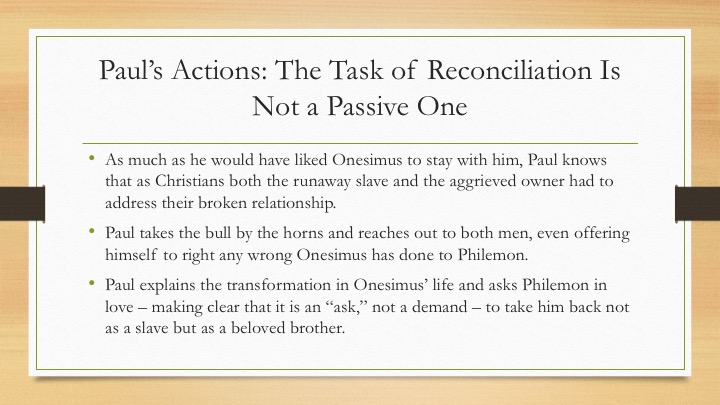 Paul's Actions: The Task of Reconciliation Is Not a Passive One
•As much as he would have liked Onesimus to stay with him, Paul knows that as Christians both the runaway slave and the aggrieved owner had to address their broken relationship.
•Paul takes the bull by the horns and reaches out to both men, even offering himself to right any wrong Onesimus has done to Philemon.
•Paul explains the transformation in Onesimus' life and asks Philemon in love – making clear that it is an "ask," not a demand – to take him back not as a slave but as a beloved brother.
The Task of Reconciliation Is a Risky and Costly One
•For reconciliation to occur, all three characters – Onesimus, Philemon, and Paul - must take risks.
•For reconciliation to occur, all three characters must make significant sacrifices.
•And no one knows how it will turn out. We still don't.
The Task of Reconciliation Is a Risky and Costly One: Onesimus
•To reconcile with Philemon, he is going to have to give up the freedom he now enjoys (precarious though it may be).
•If he returns to his master, he risks a return to his old life of enslavement.
•Worse still, as a runaway slave, he risks death by crucifixion if Philemon doesn't embrace Paul's plea to welcome him back as a Christian brother.
•Remaining with Paul is safer, but Onesimus' Christian faith calls him to confront the circumstances that caused him to run away
The Task of Reconciliation Is a Risky and Costly One: Philemon
•He has been wronged. He has a right to punish Onesimus and return him to a life of slavery (or in the extreme, to put him to death).
•There are many things we have a right to do, but should we do them?
•Paul knows that for the sake of a reconciled relationship, Philemon should be humble and forgiving, rather than stubbornly standing on his rights.
•But if Philemon does as Paul asks, won't he be seen as a weak slave owner caving in to Paul's highly counter-cultural request?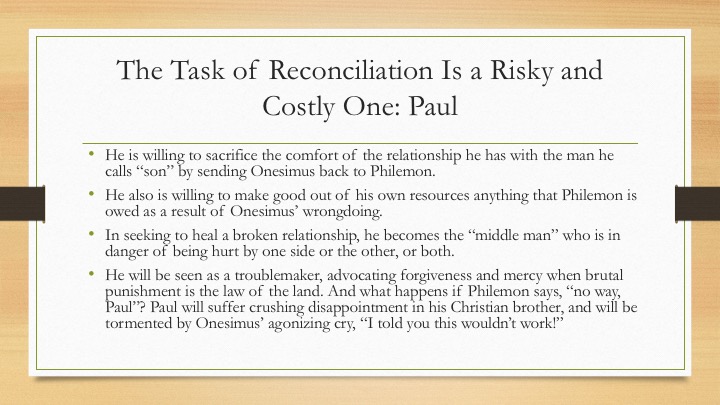 The Task of Reconciliation Is a Risky and Costly One: Paul
•He is willing to sacrifice the comfort of the relationship he has with the man he calls "son" by sending Onesimus back to Philemon.
•He also is willing to make good out of his own resources anything that Philemon is owed as a result of Onesimus' wrongdoing.
•In seeking to heal a broken relationship, he becomes the "middle man" who is in danger of being hurt by one side or the other, or both.
•He will be seen as a troublemaker, advocating forgiveness and mercy when brutal punishment is the law of the land. And what happens if Philemon says, "no way, Paul"? Paul will suffer crushing disappointment in his Christian brother, and will be tormented by Onesimus' agonizing cry, "I told you this wouldn't work!"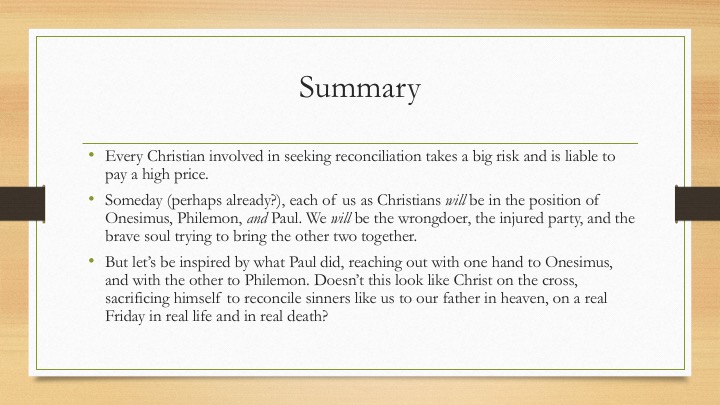 Summary - the Epistle to Philemon
•Every Christian involved in seeking reconciliation takes a big risk and is liable to pay a high price.
•Someday (perhaps already?), each of us as Christians will be in the position of Onesimus, Philemon, and Paul. We will be the wrongdoer, the injured party, and the brave soul trying to bring the other two together.
•But let's be inspired by what Paul did, reaching out with one hand to Onesimus, and with the other to Philemon. Doesn't this look like Christ on the cross, sacrificing himself to reconcile sinners like us to our father in heaven, on a real Friday in real life and in real death?
"In Christ God was reconciling the world to himself, not counting their trespasses against them, and entrusting to us the message of reconciliation."
Milton Avery
Oil on canvas, private collection
Epilogue - the Epistle to Philemon
•Reconciliation is worth the risk and the sacrifice, and it works.
•50 years after Paul wrote to Philemon, the bishop of Ephesus was a man named Onesimus!
The Epistle to Philemon   -   

Chris Knepp