Lukes Inclusive Message Lesson 2
Mike Ervin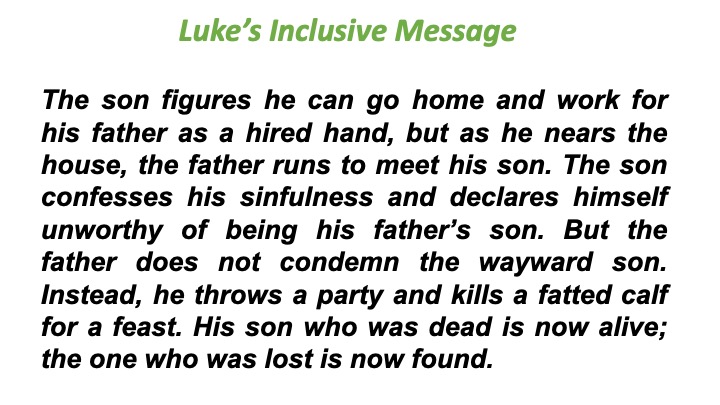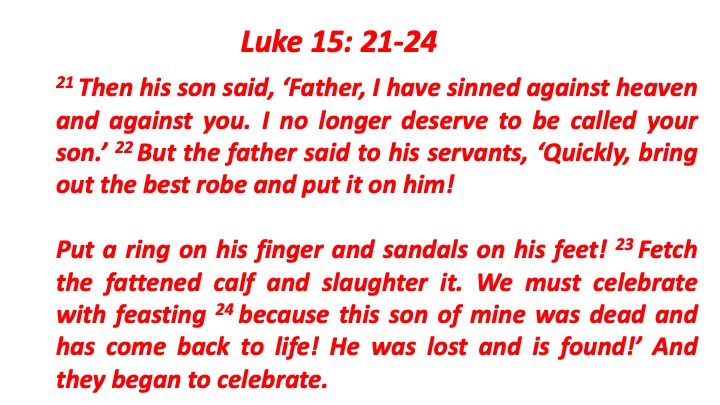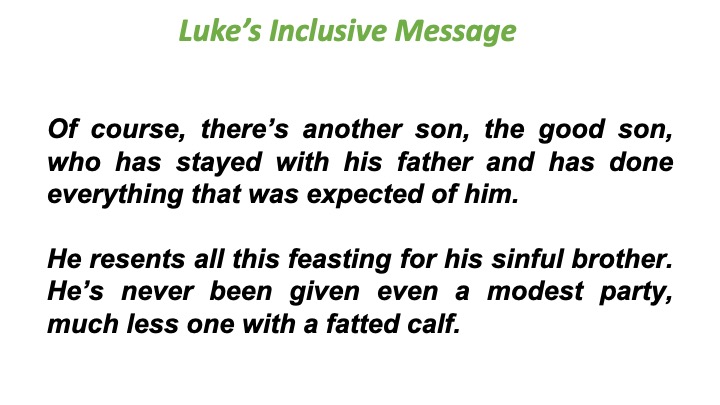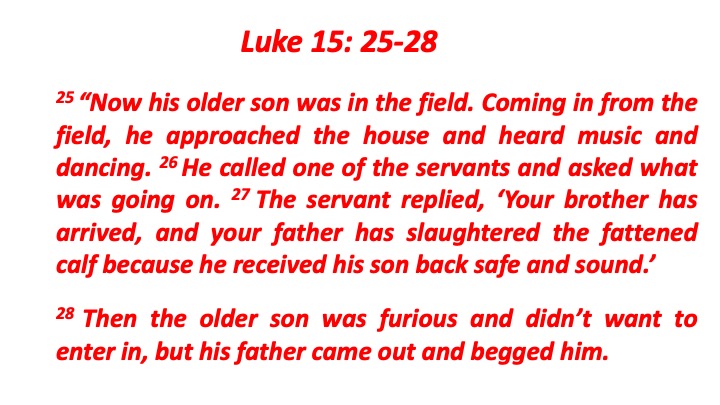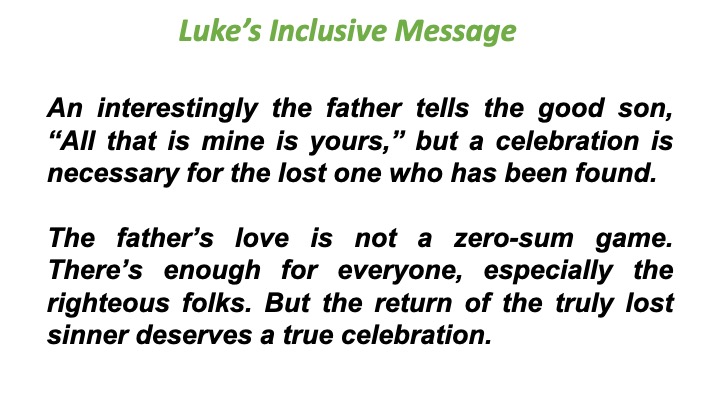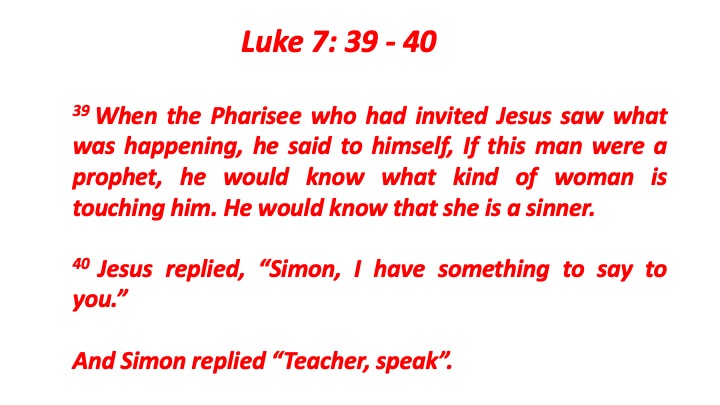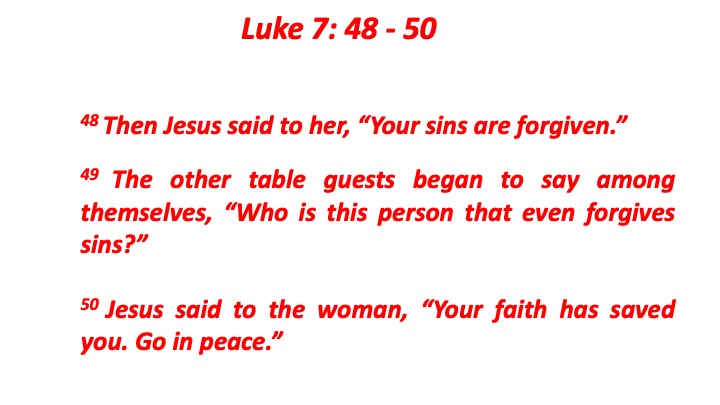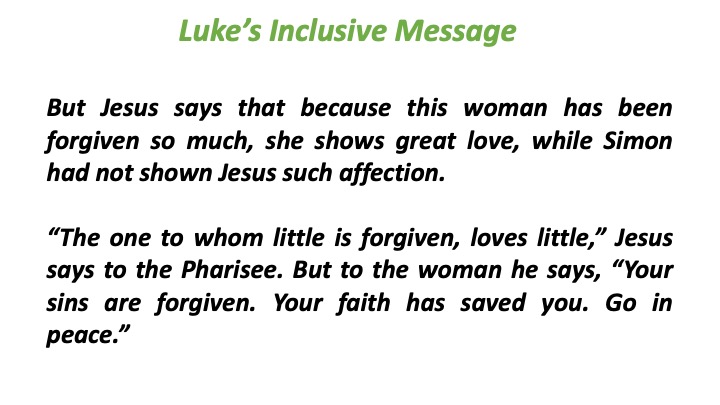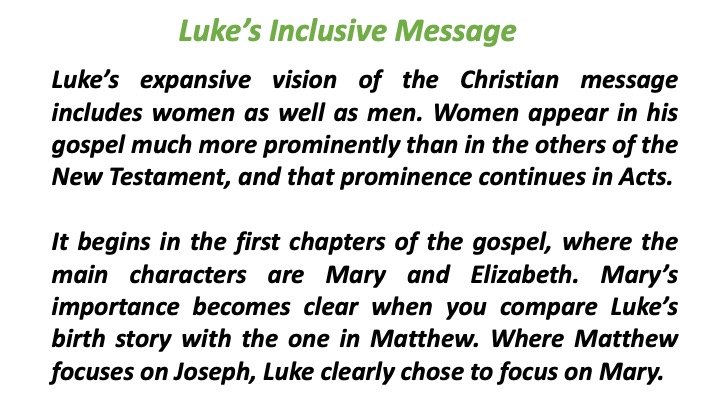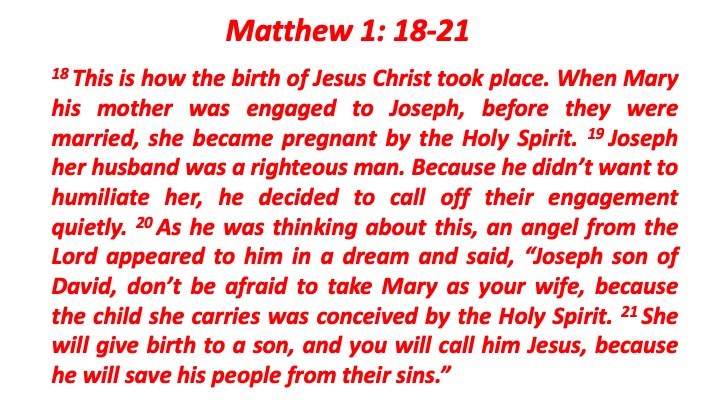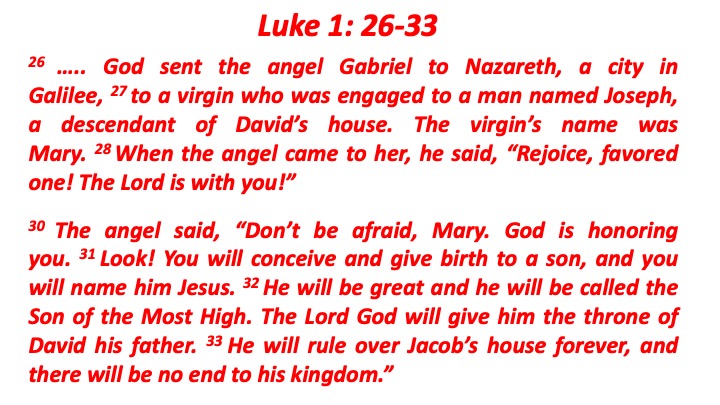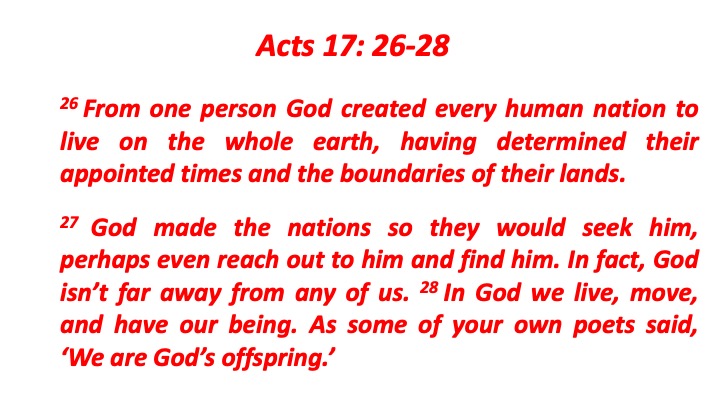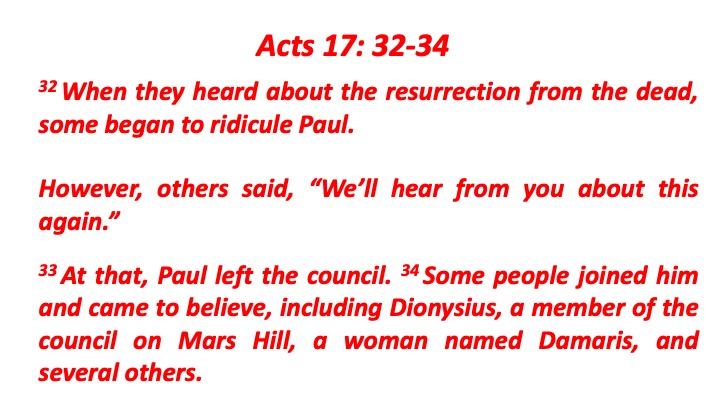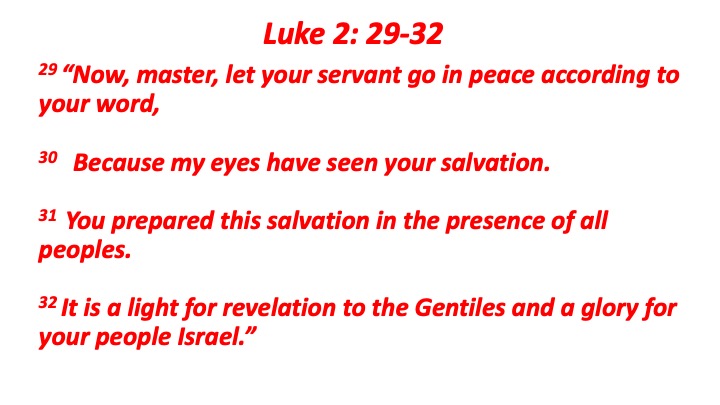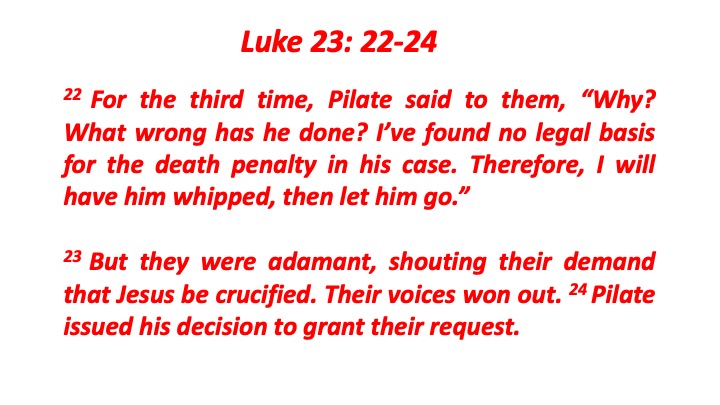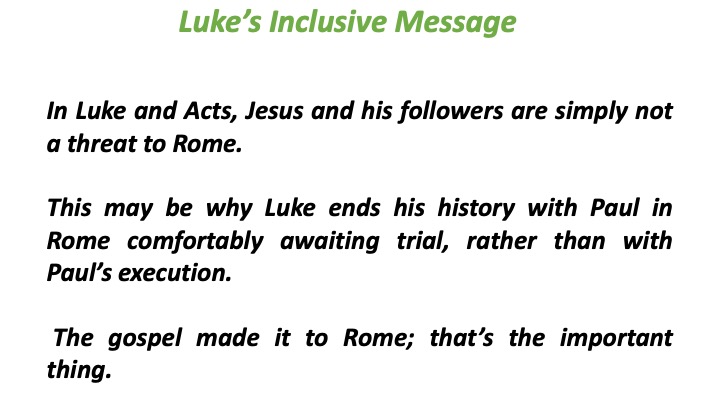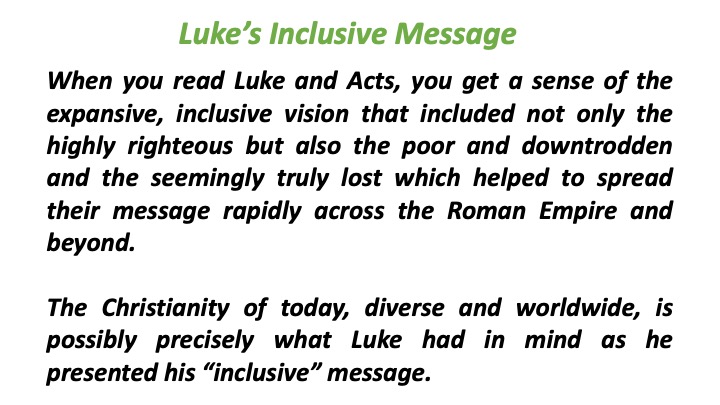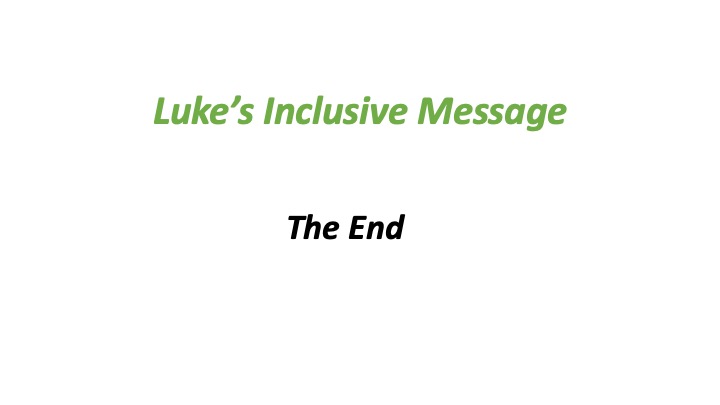 Text of Lukes Inclusive Message 2
Luke's Inclusive Message
We will begin this week at the point we left last week.
With the Parable of the Prodigal Son.
It's the story of a young man who takes his inheritance from his father early, goes off to live in a foreign country, squanders all his money in dissolute living, and ends up having to work by feeding pigs food, food that he would be glad to eat himself.
Luke 15: 11-15
11 Jesus said, "A certain man had two sons. 12 The younger son said to his father, 'Father, give me my share of the inheritance.' Then the father divided his estate between them. 13 Soon afterward, the younger son gathered everything together and took a trip to a land far away. There, he wasted his wealth through extravagant living.
14 "When he had used up his resources, a severe food shortage arose in that country, and he began to be in need. 15 He hired himself out to one of the citizens of that country, who sent him into his fields to feed pigs.
Luke 15: 17-20
17 When he came to his senses, he said, 'How many of my father's hired hands have more than enough food, but I'm starving to death! 18 I will get up and go to my father, and say to him, "Father, I have sinned against heaven and against you. 
19 I no longer deserve to be called your son. Take me on as one of your hired hands." ' 20 So he got up and went to his father. "While he was still a long way off, his father saw him and was moved with compassion. His father ran to him, hugged him, and kissed him.
Luke's Inclusive Message
The son figures he can go home and work for his father as a hired hand, but as he nears the house, the father runs to meet his son. The son confesses his sinfulness and declares himself unworthy of being his father's son. But the father does not condemn the wayward son. Instead, he throws a party and kills a fatted calf for a feast. His son who was dead is now alive; the one who was lost is now found.
Luke 15: 21-24
21 Then his son said, 'Father, I have sinned against heaven and against you. I no longer deserve to be called your son.' 22 But the father said to his servants, 'Quickly, bring out the best robe and put it on him!
Put a ring on his finger and sandals on his feet! 23 Fetch the fattened calf and slaughter it. We must celebrate with feasting 24 because this son of mine was dead and has come back to life! He was lost and is found!' And they began to celebrate.
Luke's Inclusive Message
Of course, there's another son, the good son, who has stayed with his father and has done everything that was expected of him.
He resents all this feasting for his sinful brother. He's never been given even a modest party, much less one with a fatted calf.
Luke 15: 25-28
25 "Now his older son was in the field. Coming in from the field, he approached the house and heard music and dancing. 26 He called one of the servants and asked what was going on. 27 The servant replied, 'Your brother has arrived, and your father has slaughtered the fattened calf because he received his son back safe and sound.' 
28 Then the older son was furious and didn't want to enter in, but his father came out and begged him.
Luke's Inclusive Message
An interestingly the father tells the good son, "All that is mine is yours," but a celebration is necessary for the lost one who has been found.
The father's love is not a zero-sum game. There's enough for everyone, especially the righteous folks. But the return of the truly lost sinner deserves a true celebration.
Luke 15: 29-32
29 He answered his father, 'Look, I've served you all these years, and I never disobeyed your instruction. Yet you've never given me as much as a young goat so I could celebrate with my friends. 
30 But when this son of yours returned, after gobbling up your estate on prostitutes, you slaughtered the fattened calf for him.' 31 Then his father said, 'Son, you are always with me, and everything I have is yours. 
32 But we had to celebrate and be glad because this brother of yours was dead and is alive. He was lost and is found."
Luke's Inclusive Message
In chapter 7, Jesus is once again having dinner, this time at the home of a Pharisee named Simon.
A woman who is a known sinner shows up. She weeps over Jesus's feet, then dries them and anoints them with an ointment.
Simon the Pharisee objects that a true prophet would not let such a sinner do this.
Luke 7: 36 - 38
36 One of the Pharisees invited Jesus to eat with him. After he entered the Pharisee's home, he took his place at the table. 
37 Meanwhile, a woman from the city, a sinner, discovered that Jesus was dining in the Pharisee's house. She brought perfumed oil in a vase made of alabaster. 38 Standing behind him at his feet and crying, she began to wet his feet with her tears. She wiped them with her hair, kissed them, and poured the oil on them. 
Luke 7: 36 - 38
39 When the Pharisee who had invited Jesus saw what was happening, he said to himself, If this man were a prophet, he would know what kind of woman is touching him. He would know that she is a sinner.
40 Jesus replied, "Simon, I have something to say to you."
And Simon replied "Teacher, speak".
And Jesus responded with another parable.
Luke 7: 41 – 43
41 "A certain lender had two debtors. One owed enough money to pay five hundred people for a day's work. The other owed enough money for fifty. 42 When they couldn't pay, the lender forgave the debts of them both. Which of them will love him more?"
43 Simon replied, "I suppose the one who had the largest debt canceled."
Jesus said, "You have judged correctly."
Luke 7: 44 - 48
44 Jesus turned to the woman and said to Simon, "Do you see this woman? When I entered your home, you didn't give me water for my feet, but she wet my feet with tears and wiped them with her hair. 45 You didn't greet me with a kiss, but she hasn't stopped kissing my feet since I came in. 46 You didn't anoint my head with oil, but she has poured perfumed oil on my feet. 47 This is why I tell you that her many sins have been forgiven; so she has shown great love. The one who is forgiven little loves little."
Luke 7: 48 – 50
48 Then Jesus said to her, "Your sins are forgiven."
49 The other table guests began to say among themselves, "Who is this person that even forgives sins?"
50 Jesus said to the woman, "Your faith has saved you. Go in peace."
Luke's Inclusive Message
But Jesus says that because this woman has been forgiven so much, she shows great love, while Simon had not shown Jesus such affection.
"The one to whom little is forgiven, loves little," Jesus says to the Pharisee. But to the woman he says, "Your sins are forgiven. Your faith has saved you. Go in peace."
Luke's Inclusive Message
Luke's expansive vision of the Christian message includes women as well as men. Women appear in his gospel much more prominently than in the others of the New Testament, and that prominence continues in Acts.
It begins in the first chapters of the gospel, where the main characters are Mary and Elizabeth. Mary's importance becomes clear when you compare Luke's birth story with the one in Matthew. Where Matthew focuses on Joseph, Luke clearly chose to focus on Mary.
Matthew 1: 18-21
18 This is how the birth of Jesus Christ took place. When Mary his mother was engaged to Joseph, before they were married, she became pregnant by the Holy Spirit. 19 Joseph her husband was a righteous man. Because he didn't want to humiliate her, he decided to call off their engagement quietly. 20 As he was thinking about this, an angel from the Lord appeared to him in a dream and said, "Joseph son of David, don't be afraid to take Mary as your wife, because the child she carries was conceived by the Holy Spirit. 21 She will give birth to a son, and you will call him Jesus, because he will save his people from their sins."
Luke 1: 26-33
26 ….. God sent the angel Gabriel to Nazareth, a city in Galilee, 27 to a virgin who was engaged to a man named Joseph, a descendant of David's house. The virgin's name was Mary. 28 When the angel came to her, he said, "Rejoice, favored one! The Lord is with you!" 
30 The angel said, "Don't be afraid, Mary. God is honoring you. 31 Look! You will conceive and give birth to a son, and you will name him Jesus. 32 He will be great and he will be called the Son of the Most High. The Lord God will give him the throne of David his father. 33 He will rule over Jacob's house forever, and there will be no end to his kingdom."
Luke's Inclusive Message
Female characters populate both Luke and Acts as followers of Jesus and members of the community. Notably, however, Luke balances his message of inclusion of women with careful definition of their proper roles in the church.
The letters of Paul, written in the decade of the 50s, show women performing all sorts of leadership roles in his congregations—they are deacons, prophets, colleagues, and patrons. Paul even calls a woman, Junia, "prominent among the apostles."
Luke's Inclusive Message
Luke wrote 40 or more years after Paul, and he does not think of women playing all these roles. As he presents it, only men can be apostles, a group limited to the original 12 disciples of Jesus, plus maybe Paul.
In the first chapter of Acts, Luke lists the 11 apostles - without Judas, of course - and then says that there were also certain women around. Peter then announces that Judas must be replaced, and that the new apostle must be "one of the men who have accompanied us during all the time that the Lord Jesus went in and out among us."
Luke's Inclusive Message
What should women do, according to Luke? At the beginning of chapter 8, Luke names several women who were following Jesus. He then says that many other women "provided for them out of their resources."
In other words, women who had sufficient resources supported Jesus and his movement financially and in other ways. In line with this, many of the female characters that appear in Acts are women of high status who are able to support the Christian community as patrons.
Luke's Inclusive Message
You may think of the Christian message as opposed to the teachings of pagan philosophy and religion, but Luke does not present it in quite that way.
In Acts, chapter 17, Paul stands before the Areopagus, a famous hill in Athens, and gives a speech that presents his God as what paganism was looking for, even if pagans did not know it. Converting to the Way, according to Luke, does not mean rejecting traditional philosophy and religion; it means embracing the culmination of traditional philosophy and religion into a new understanding.
Acts 17: 22-24
22 Paul stood up in the middle of the council on Mars Hill and said, "People of Athens, I see that you are very religious in every way. 23 As I was walking through town and carefully observing your objects of worship, I even found an altar with this inscription: 'To an unknown God.'
What you worship as unknown, I now proclaim to you. 24 God, who made the world and everything in it, is Lord of heaven and earth. He doesn't live in temples made with human hands. 
Acts 17: 26-28
26 From one person God created every human nation to live on the whole earth, having determined their appointed times and the boundaries of their lands. 
27 God made the nations so they would seek him, perhaps even reach out to him and find him. In fact, God isn't far away from any of us. 28 In God we live, move, and have our being. As some of your own poets said, 'We are God's offspring.'
Acts 17: 29-31
29 "Therefore, as God's offspring, we have no need to imagine that the divine being is like a gold, silver, or stone image made by human skill and thought. 30 God overlooks ignorance of these things in times past, but now directs everyone everywhere to change their hearts and lives. 
31 This is because God has set a day when he intends to judge the world justly by a man he has appointed. God has given proof of this to everyone by raising him from the dead."
Acts 17: 32-34
32 When they heard about the resurrection from the dead, some began to ridicule Paul.
However, others said, "We'll hear from you about this again." 
33 At that, Paul left the council. 34 Some people joined him and came to believe, including Dionysius, a member of the council on Mars Hill, a woman named Damaris, and several others.
Luke's Inclusive Message
And while we are emphasizing inclusion. What about the inclusion of the Gentiles?
Luke clearly emphasizes the eventual inclusion of the Gentiles in an early prophecy.
In Luke chapter 2, we are introduced to Simeon, a devout religious man who was inspired by the Holy Spirit. Let's hear what he prophesized.
Luke 2: 25-28
25 A man named Simeon was in Jerusalem. He was righteous and devout. He eagerly anticipated the restoration of Israel, and the Holy Spirit rested on him. 26 The Holy Spirit revealed to him that he wouldn't die before he had seen the Lord's Christ.
 27 Led by the Spirit, he went into the temple area. Meanwhile, Jesus' parents brought the child to the temple so that they could do what was customary under the Law. 28 Simeon took Jesus in his arms and praised God. He said,
29 "Now, master, let your servant go in peace according to your word,

30     because my eyes have seen your salvation.

31  You prepared this salvation in the presence of all peoples.

32 It's a light for revelation to the Gentiles and a glory for your people Israel."
Luke's Inclusive Message
But wasn't Christianity a subversive religion, one that opposed the Roman Empire?
But Luke has a different understanding.
Throughout his two volumes, Roman governors find that Christians are not a danger to good order. Instead, Christians get in trouble on technicalities or for other reasons.
Luke's Inclusive Message
This pattern applies to the trial and execution of Jesus in Luke, chapter 23.
Pontius Pilate repeatedly says that he finds no reason for punishing Jesus: "He has done nothing to deserve death."  He says it more than once.
It's only because of the crowd's insistent yelling that Pilate hands Jesus over to be crucified.
Luke 23: 13-16
13 Then Pilate called together the chief priests, the rulers, and the people. 14 He said to them, "You brought this man before me as one who was misleading the people. I have questioned him in your presence and found nothing in this man's conduct that provides a legal basis for the charges you have brought against him. 
15 Neither did Herod, because Herod returned him to us. He's done nothing that deserves death. 
16 Therefore, I'll have him whipped, then let him go."
Luke 23: 18-21
18 But with one voice they shouted, "Away with this man! Release Barabbas to us." (19 Barabbas had been thrown into prison because of a riot that had occurred in the city, and for murder.)
20 Pilate addressed them again because he wanted to release Jesus.
21 They kept shouting out, "Crucify him! Crucify him!"
Luke 23: 22-24
22 For the third time, Pilate said to them, "Why? What wrong has he done? I've found no legal basis for the death penalty in his case. Therefore, I will have him whipped, then let him go."
23 But they were adamant, shouting their demand that Jesus be crucified. Their voices won out. 24 Pilate issued his decision to grant their request.
Luke's Inclusive Message
In Luke, Jesus's crucifixion seems to be one big mistake on the part of the Romans. Indeed, even Jesus himself prays, "Father, forgive them; for they do not know what they are doing."
And one of the robbers crucified with Jesus states that he and the other thief are getting what they deserve, but Jesus has done nothing wrong.
Luke's Inclusive Message
And just in case you miss the point, when Jesus finally dies, in both Mark and Luke there is a Roman centurion standing at the foot of the cross.
In Mark, that centurion says, "This man was certainly God's Son!"
Not so in Luke, where he says, "It's really true: this man was righteous."
Luke's Inclusive Message
In Luke and Acts, Jesus and his followers are simply not a threat to Rome.
This may be why Luke ends his history with Paul in Rome comfortably awaiting trial, rather than with Paul's execution.
The gospel made it to Rome; that's the important thing.
Luke's Inclusive Message
When you read Luke and Acts, you get a sense of the expansive, inclusive vision that led Christians to spread their message rapidly across the Roman Empire and beyond.
The Christianity of today, diverse and worldwide, is possibly precisely what Luke had in mind.
Lukes Inclusive Message Lesson 2