A Study of James - Lesson 2
Mike Ervin
A Study of James
Welcome Back!
To the second week of the Book of James.
Wherein we will examine this New Testament writing thru the lens of Wisdom Literature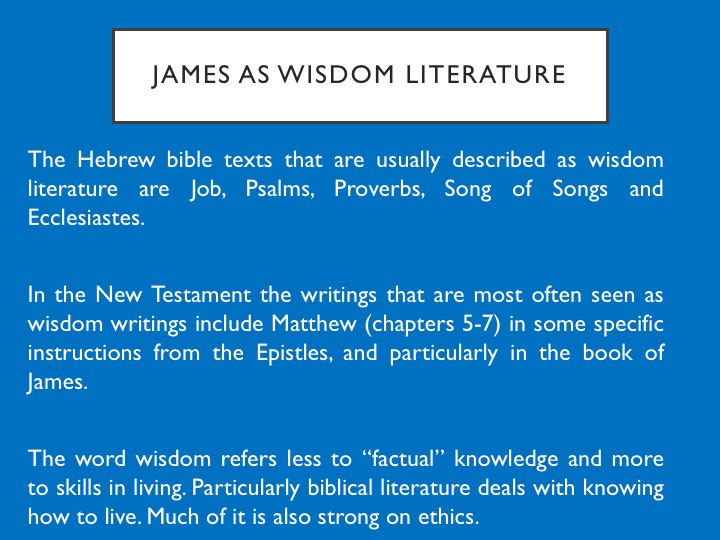 JAMES as Wisdom Literature
The Hebrew bible texts that are usually described as wisdom literature are Job, Psalms, Proverbs, Song of Songs and Ecclesiastes. 
In the New Testament the writings that are most often seen as wisdom writings include Matthew (chapters 5-7) in some specific instructions from the Epistles, and particularly in the book of James. 
The word wisdom refers less to "factual" knowledge and more to skills in living. Particularly biblical literature deals with knowing how to live. Much of it is also strong on ethics.
JAMES as Wisdom Literature (2)

In early Christianity James was usually lumped into the Epistles in the New Testament, in that it's beginning seems to be in classic Greek letter form, but that conclusion has changed over time. Modern scholarship has turned to a conclusion that James is much more a book of ethical instructions. One scholar has noted that there are 8 verses in James that mimic eight verses in Chapter 19 in Leviticus which involved ethical instructions to Israel.
JAMES as Wisdom Literature (3)
The vigorous and fresh writing style of James is also like Old Testament wisdom passages. James generally uses short and vivid sentences. He is fond of making comparisons to nature - waves, sun, flowers, planets, and animals - to give his teaching concrete expression. He asks his readers short, penetrating questions to cause them to reflect. He speaks in proverbs. Often, he uses the form of the diatribe, a scathing denunciation of immoral behavior. All these literary devices are common in moral and ethical literature.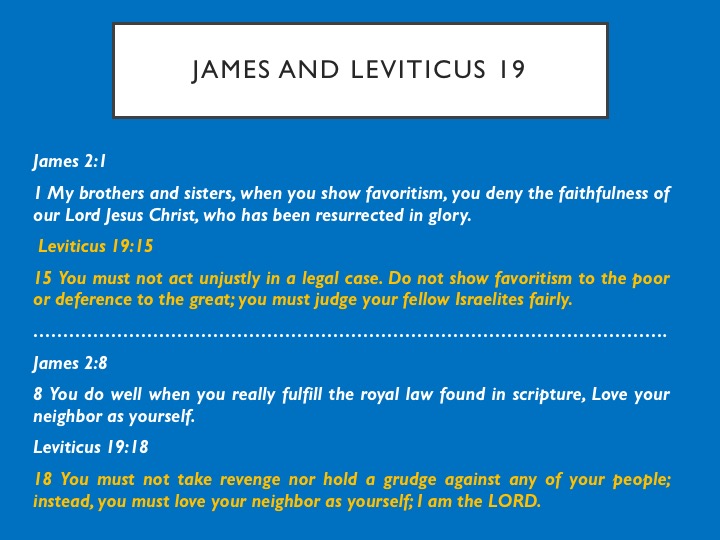 JAMES and Leviticus 19
James 2:1
1 My brothers and sisters, when you show favoritism, you deny the faithfulness of our Lord Jesus Christ, who has been resurrected in glory.
 Leviticus 19:15
15 You must not act unjustly in a legal case. Do not show favoritism to the poor or deference to the great; you must judge your fellow Israelites fairly.
…………………………………………………………………………………………….
James 2:8
8 You do well when you really fulfill the royal law found in scripture, Love your neighbor as yourself. 
Leviticus 19:18
18 You must not take revenge nor hold a grudge against any of your people; instead, you must love your neighbor as yourself; I am the LORD.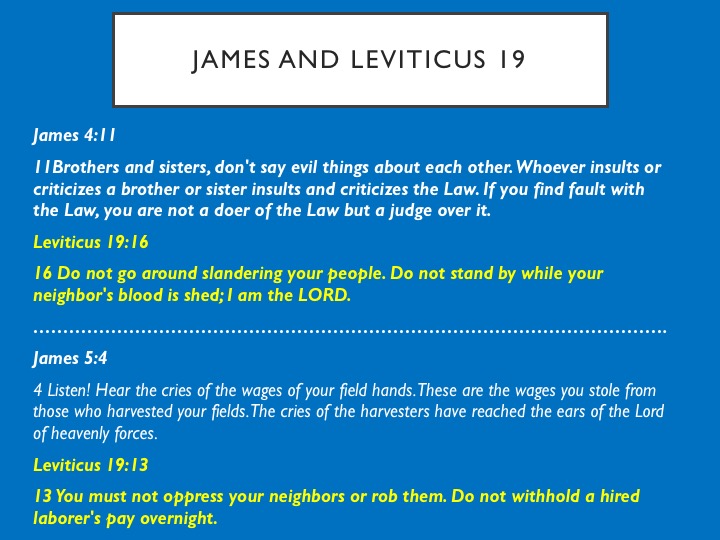 JAMES and Leviticus 19
James 4:11
11 Brothers and sisters, don't say evil things about each other. Whoever insults or criticizes a brother or sister insults and criticizes the Law. If you find fault with the Law, you are not a doer of the Law but a judge over it.
Leviticus 19:16
16 Do not go around slandering your people. Do not stand by while your neighbor's blood is shed; I am the LORD.
…………………………………………………………………………………………….
James 5:4
4 Listen! Hear the cries of the wages of your field hands. These are the wages you stole from those who harvested your fields. The cries of the harvesters have reached the ears of the Lord of heavenly forces.
Leviticus 19:13
13 You must not oppress your neighbors or rob them. Do not withhold a hired laborer's pay overnight.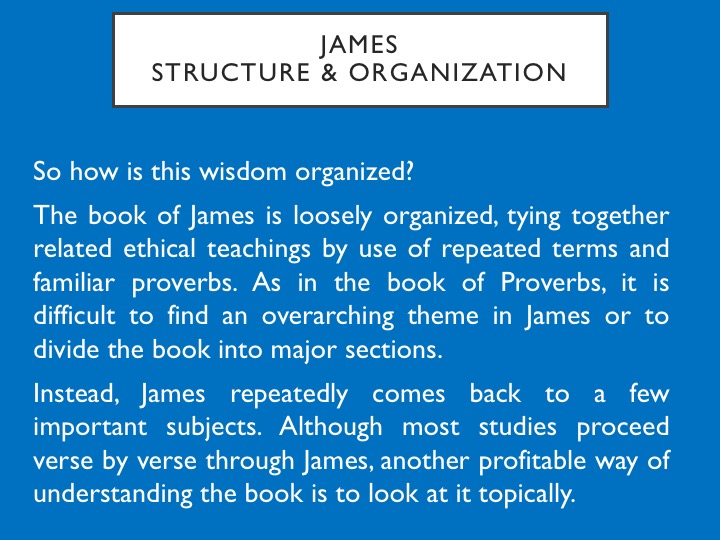 James
Structure & Organization
So how is this wisdom organized?
The book of James is loosely organized, tying together related ethical teachings by use of repeated terms and familiar proverbs. As in the book of Proverbs, it is difficult to find an overarching theme in James or to divide the book into major sections.
Instead, James repeatedly comes back to a few important subjects. Although most studies proceed verse by verse through James, another profitable way of understanding the book is to look at it topically.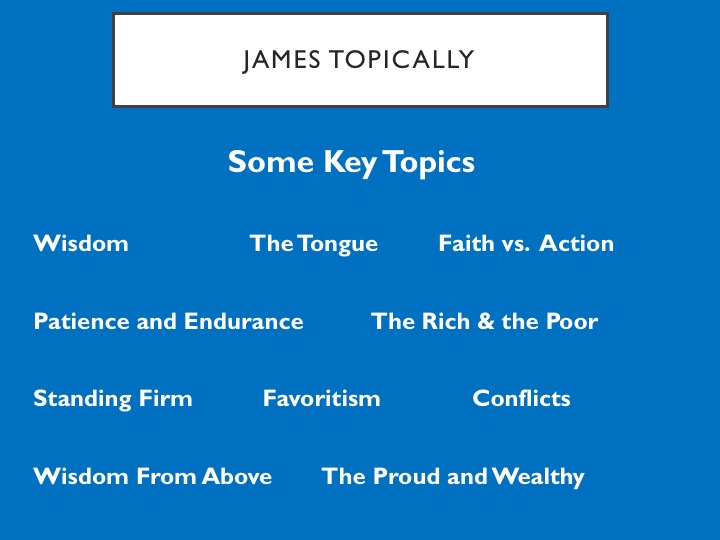 James Topically
                                           Some Key Topics
Wisdom                               The Tongue         Faith vs.  Action
Patience and Endurance                              The Rich & the Poor
Standing Firm                    Favoritism                      Conflicts
         Wisdom From Above                         The Proud and Wealthy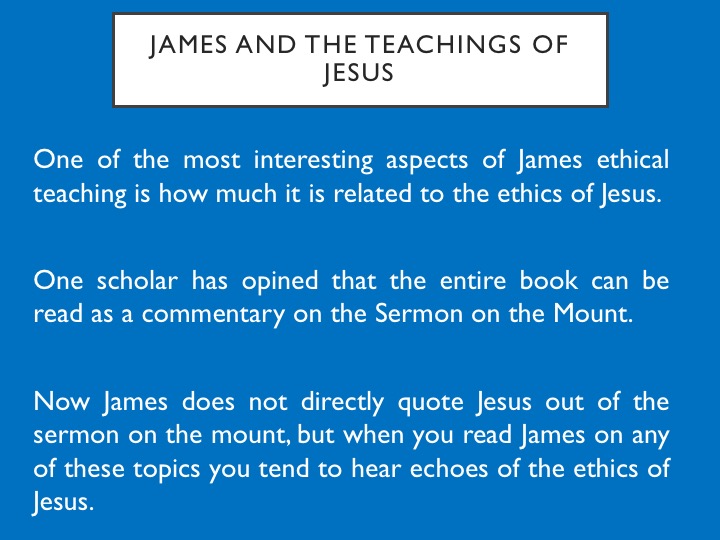 James and the Teachings of Jesus
One of the most interesting aspects of James ethical teaching is how much it is related to the ethics of Jesus.
One scholar has opined that the entire book can be read as a commentary on the Sermon on the Mount.
Now James does not directly quote Jesus out of the sermon on the mount, but when you read James on any of these topics you tend to hear echoes of the ethics of Jesus.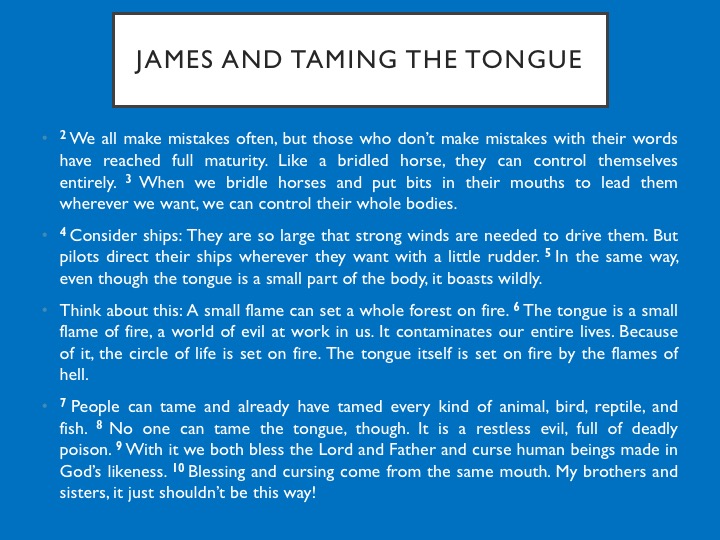 James and Taming the Tongue
2  We all make mistakes often, but those who don't make mistakes with their words have reached full maturity. Like a bridled horse, they can control themselves entirely. 3 When we bridle horses and put bits in their mouths to lead them wherever we want, we can control their whole bodies.
4 Consider ships: They are so large that strong winds are needed to drive them. But pilots direct their ships wherever they want with a little rudder. 5 In the same way, even though the tongue is a small part of the body, it boasts wildly.
Think about this: A small flame can set a whole forest on fire. 6 The tongue is a small flame of fire, a world of evil at work in us. It contaminates our entire lives. Because of it, the circle of life is set on fire. The tongue itself is set on fire by the flames of hell.
7 People can tame and already have tamed every kind of animal, bird, reptile, and fish. 8 No one can tame the tongue, though. It is a restless evil, full of deadly poison. 9 With it we both bless the Lord and Father and curse human beings made in God's likeness. 10 Blessing and cursing come from the same mouth. My brothers and sisters, it just shouldn't be this way!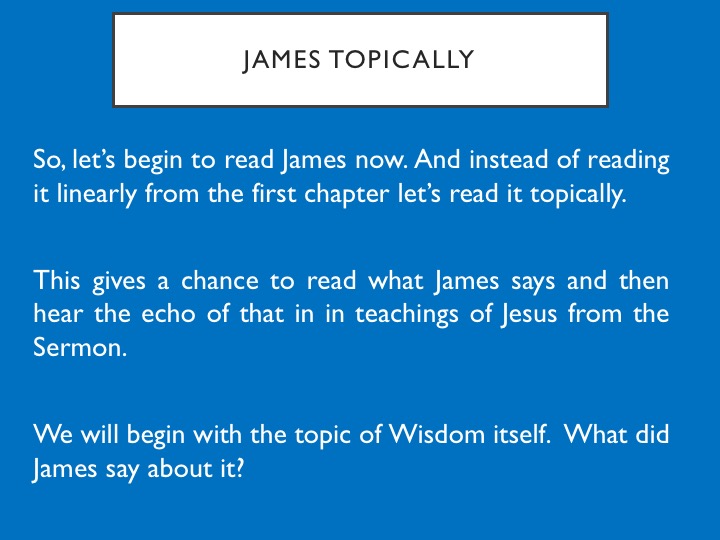 James Topically
So, let's begin to read James now. And instead of reading it linearly from the first chapter let's read it topically.
This gives a chance to read what James says and then hear the echo of that in in teachings of Jesus from the Sermon.
We will begin with the topic of Wisdom itself.  What did James say about it?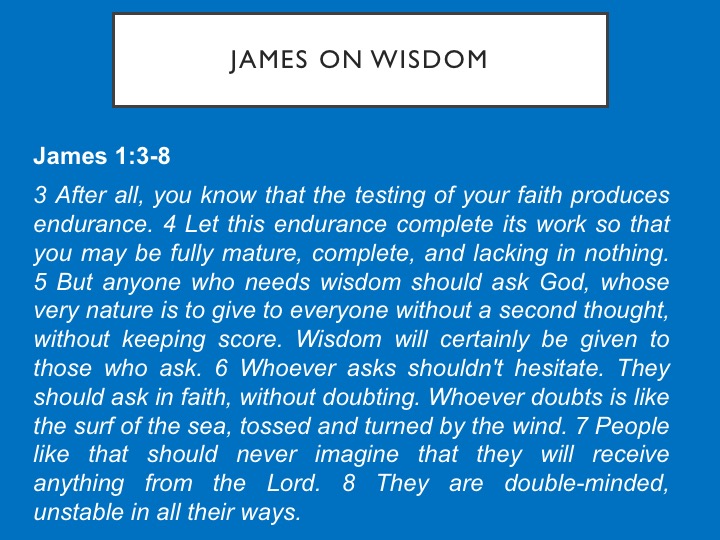 James on Wisdom
James 1:3-8
3 After all, you know that the testing of your faith produces endurance. 4 Let this endurance complete its work so that you may be fully mature, complete, and lacking in nothing. 5 But anyone who needs wisdom should ask God, whose very nature is to give to everyone without a second thought, without keeping score. Wisdom will certainly be given to those who ask. 6 Whoever asks shouldn't hesitate. They should ask in faith, without doubting. Whoever doubts is like the surf of the sea, tossed and turned by the wind. 7 People like that should never imagine that they will receive anything from the Lord. 8 They are double-minded, unstable in all their ways.
Wisdom from Above
James 3:13-18
13 Are any of you wise and understanding? Show that your actions are good with a humble lifestyle that comes from wisdom. 14 However, if you have bitter jealousy and selfish ambition in your heart, then stop bragging and living in ways that deny the truth. 15 This is not the wisdom that comes down from above. Instead, it is from the earth, natural and demonic. 16 Wherever there is jealousy and selfish ambition, there is disorder and everything that is evil. 17 What of the wisdom from above? First, it is pure, and then peaceful, gentle, obedient, filled with mercy and good actions, fair, and genuine. 18 Those who make peace sow the seeds of justice by their peaceful acts.
Other Biblical Wisdom
Jesus – Matthew 5:5
5 "Blessed are those who are humble, because they will inherit the earth. "
Proverbs 2:2-6
2 Turn your ear toward wisdom and stretch your mind toward understanding. 3 Call out for insight, and cry aloud for understanding. 4 Seek it like silver; search for it like hidden treasure. 5 Then you will understand the awe of the LORD and discover the knowledge of God. 6 The LORD gives wisdom; from his mouth comes knowledge and understanding.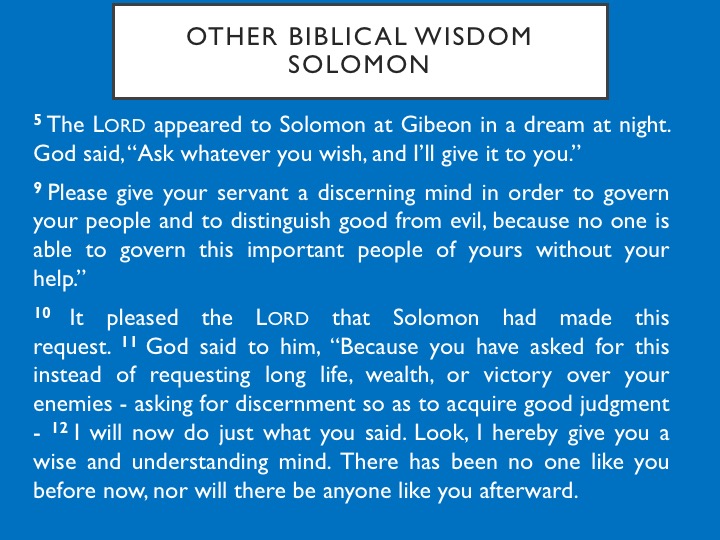 Other Biblical Wisdom –Solomon
5 The Lord appeared to Solomon at Gibeon in a dream at night. God said, "Ask whatever you wish, and I'll give it to you."
9 Please give your servant a discerning mind in order to govern your people and to distinguish good from evil, because no one is able to govern this important people of yours without your help."
10 It pleased the Lord that Solomon had made this request. 11 God said to him, "Because you have asked for this instead of requesting long life, wealth, or victory over your enemies - asking for discernment so as to acquire good judgment - 12 I will now do just what you said. Look, I hereby give you a wise and understanding mind. There has been no one like you before now, nor will there be anyone like you afterward. 
James on the Rich and Poor
James 1: 9-12
9 Brothers and sisters who are poor should find satisfaction in their high status. 10 Those who are wealthy should find satisfaction in their low status, because they will die off like wildflowers. 11 The sun rises with its scorching heat and dries up the grass so that its flowers fall and its beauty is lost. Just like that, in the midst of their daily lives, the wealthy will waste away. 12 Those who stand firm during testing are blessed. They are tried and true. They will receive the life God has promised to those who love him as their reward.
James on the Rich and Poor (2)
James 5:1-6
1 Pay attention, you wealthy people! Weep and moan over the miseries coming upon you. 2 Your riches have rotted. Moths have destroyed your clothes. 3 Your gold and silver have rusted, and their rust will be evidence against you. It will eat your flesh like fire. Consider the treasure you have hoarded in the last days. 4 Listen! Hear the cries of the wages of your field hands. These are the wages you stole from those who harvested your fields. The cries of the harvesters have reached the ears of the Lord of heavenly forces. 5 You have lived a self-satisfying life on this earth, a life of luxury. You have stuffed your hearts in preparation for the day of slaughter. 6 You have condemned and murdered the righteous one, who doesn't oppose you.
Jesus on the Rich and Poor
Sermon on the Plain
Luke 6 20-21
20 Jesus raised his eyes to his disciples and said: "Blessed are you who are poor, because God's kingdom is yours. 21 Blessed are you who hunger now, because you will be satisfied. Blessed are you who weep now, because you will laugh. 
Luke 6:24-26
24 But how terrible for you who are rich, because you have already received your comfort. 25 How terrible for you who have plenty now, because you will be hungry. How terrible for you who laugh now, because you will mourn and weep. 26 How terrible for you when all speak well of you. Their ancestors did the same things to the false prophets.
James and Job
James is the only New Testament writer to mention Job:
James 5:11 11 Look at how we honor those who have practiced endurance. You have heard of the endurance of Job. And you have seen what the Lord has accomplished, for the Lord is full of compassion and mercy. "
In the book of Job, the character Job seems an unlikely example of patience or endurance, since he loudly complains to God. However, it is not quiet patience that James is talking about here but heroic endurance. Job endured everything that Satan threw against him and still maintained his relationship with God.
What is the "Wisdom" of James
Realizing that James is wisdom literature and moral instruction helps us to avoid two widespread misunderstandings of James.
One is that James is a legalistic book. Martin Luther (1483-1546) called it "an epistle of straw," meaning it had little value because he could not find the gospel there.
Luther and many after him misunderstood the teaching of James on faith and works. The misunderstanding stems from reading James as legal literature instead of moral instruction.
When the book is read properly, it is clear that James does not believe in works righteousness but, like Paul, teaches that Christians are saved by an active faith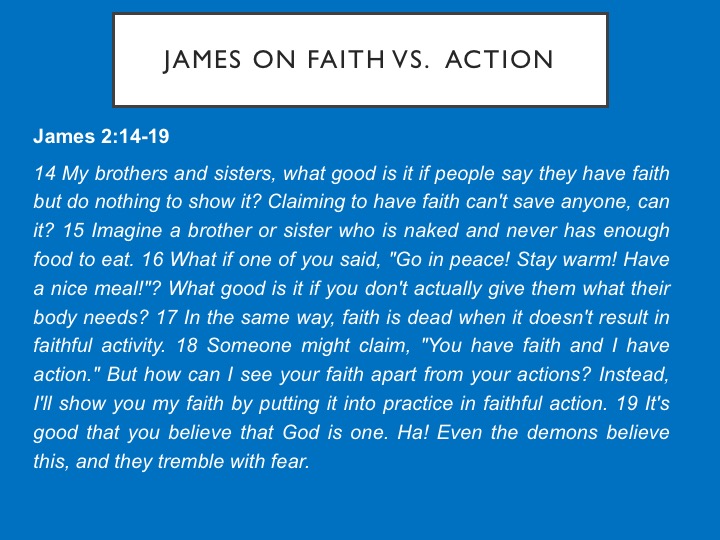 James on Faith vs.  Action
James 2:14-19
14 My brothers and sisters, what good is it if people say they have faith but do nothing to show it? Claiming to have faith can't save anyone, can it? 15 Imagine a brother or sister who is naked and never has enough food to eat. 16 What if one of you said, "Go in peace! Stay warm! Have a nice meal!"? What good is it if you don't actually give them what their body needs? 17 In the same way, faith is dead when it doesn't result in faithful activity. 18 Someone might claim, "You have faith and I have action." But how can I see your faith apart from your actions? Instead, I'll show you my faith by putting it into practice in faithful action. 19 It's good that you believe that God is one. Ha! Even the demons believe this, and they tremble with fear.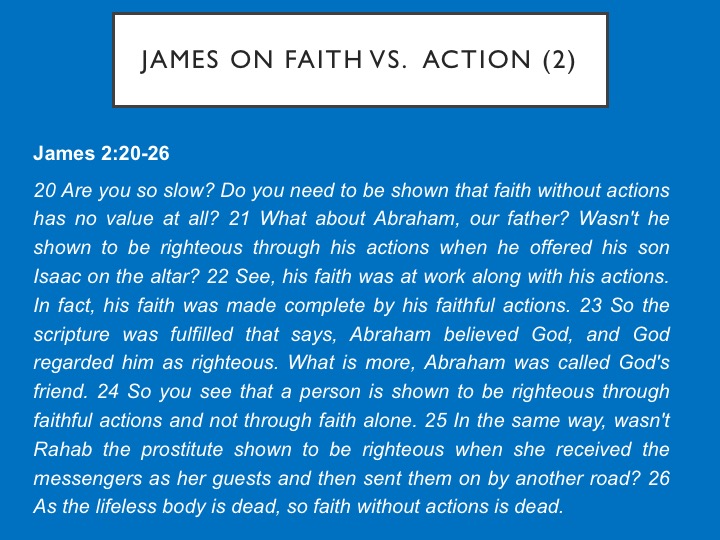 James on Faith vs.  Action (2)
James 2:20-26
20 Are you so slow? Do you need to be shown that faith without actions has no value at all? 21 What about Abraham, our father? Wasn't he shown to be righteous through his actions when he offered his son Isaac on the altar? 22 See, his faith was at work along with his actions. In fact, his faith was made complete by his faithful actions. 23 So the scripture was fulfilled that says, Abraham believed God, and God regarded him as righteous. What is more, Abraham was called God's friend. 24 So you see that a person is shown to be righteous through faithful actions and not through faith alone. 25 In the same way, wasn't Rahab the prostitute shown to be righteous when she received the messengers as her guests and then sent them on by another road? 26 As the lifeless body is dead, so faith without actions is dead.
A Final Misunderstanding
The second misunderstanding from other critics of James is that James is simply practical, that he deals with people where they are and gives concrete steps on how they can improve. Of course, James is practical in the sense that he is concerned with Christian living.
But James is thoroughly impractical in that he challenges our assumptions at every turn. If we feel comfortable with the teaching of James (or rather, with the teaching of Jesus, since he is the original source of James' teaching), then we have probably misunderstood it. Because like the teachings of Jesus it is a radical, countercultural message that maybe the church today needs to hear and to follow.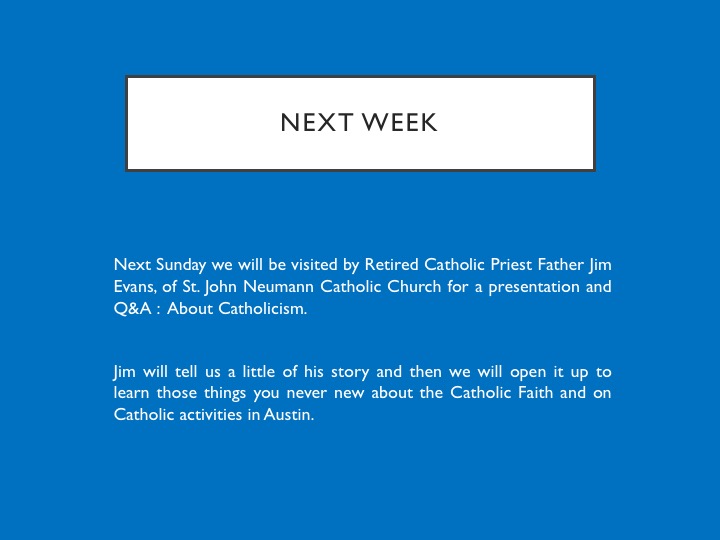 A Study of James - Lesson 2