Christian Hope Lesson 2
Chris Knepp
And Christian Hope is not all about going to heaven!
And we return now to Lesson 2 on N. T. Wright's "Surprised by Hope".  We will begin from the last slide of last weeks Lesson 1: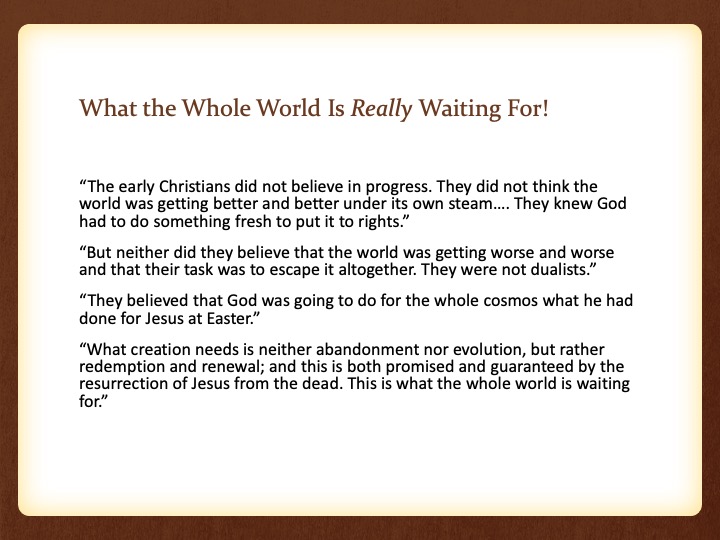 What the Whole World Is Really Waiting For!

"The early Christians did not believe in progress. They did not think the world was getting better and better under its own steam…. They knew God had to do something fresh to put it to rights."
"But neither did they believe that the world was getting worse and worse and that their task was to escape it altogether. They were not dualists."
"They believed that God was going to do for the whole cosmos what he had done for Jesus at Easter."
"What creation needs is neither abandonment nor evolution, but rather redemption and renewal; and this is both promised and guaranteed by the resurrection of Jesus from the dead. This is what the whole world is waiting for."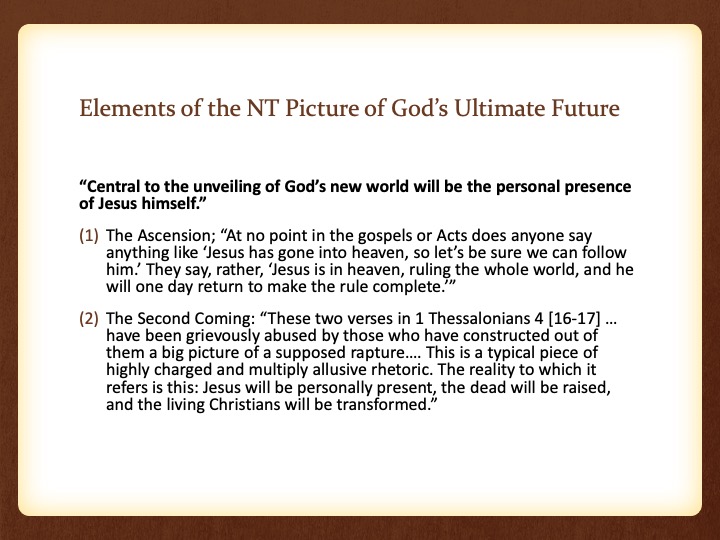 Elements of the NT Picture of God's Ultimate Future
"Central to the unveiling of God's new world will be the personal presence of Jesus himself."
(1) The Ascension; "At no point in the gospels or Acts does anyone say anything like 'Jesus has gone into heaven, so let's be sure we can follow him.' They say, rather, 'Jesus is in heaven, ruling the whole world, and he will one day return to make the rule complete.'"
(2) The Second Coming: "These two verses in 1 Thessalonians 4 [16-17] … have been grievously abused by those who have constructed out of them a big picture of a supposed rapture…. This is a typical piece of highly charged and multiply allusive rhetoric. The reality to which it refers is this: Jesus will be personally present, the dead will be raised, and the living Christians will be transformed."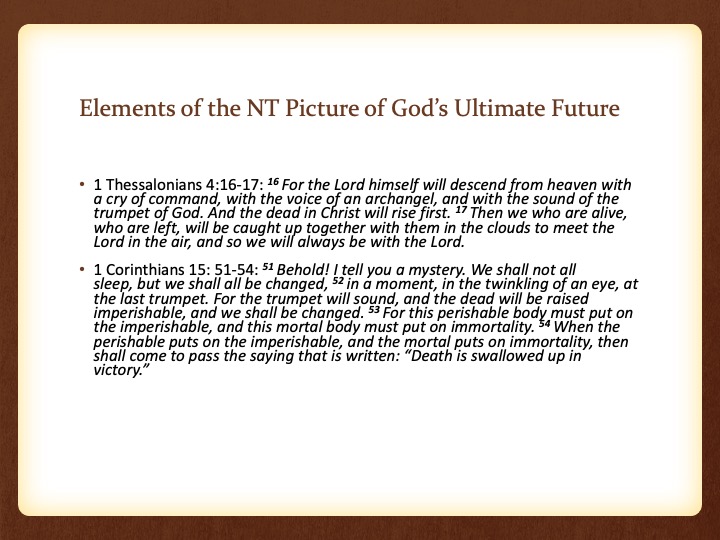 Elements of the NT Picture of God's Ultimate Future
1 Thessalonians 4:16-17: 16 For the Lord himself will descend from heaven with a cry of command, with the voice of an archangel, and with the sound of the trumpet of God. And the dead in Christ will rise first. 17 Then we who are alive, who are left, will be caught up together with them in the clouds to meet the Lord in the air, and so we will always be with the Lord.
1 Corinthians 15: 51-54: 51 Behold! I tell you a mystery. We shall not all sleep, but we shall all be changed, 52 in a moment, in the twinkling of an eye, at the last trumpet. For the trumpet will sound, and the dead will be raised imperishable, and we shall be changed. 53 For this perishable body must put on the imperishable, and this mortal body must put on immortality. 54 When the perishable puts on the imperishable, and the mortal puts on immortality, then shall come to pass the saying that is written: "Death is swallowed up in victory."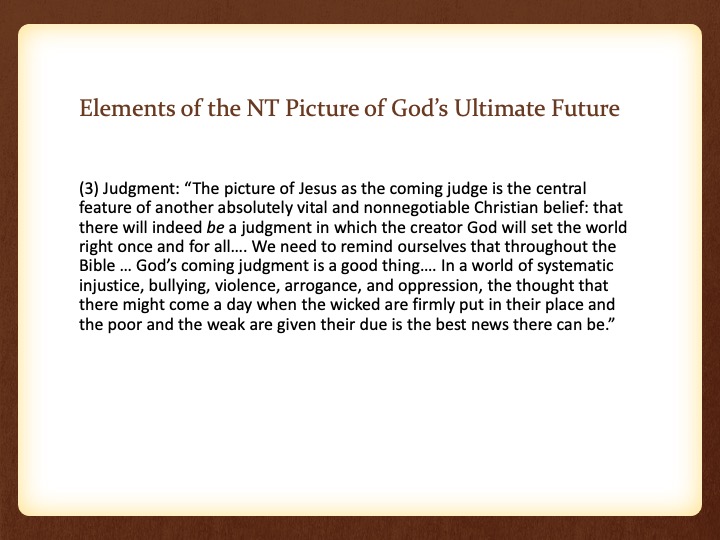 Elements of the NT Picture of God's Ultimate Future
(3) Judgment: "The picture of Jesus as the coming judge is the central feature of another absolutely vital and nonnegotiable Christian belief: that there will indeed be a judgment in which the creator God will set the world right once and for all….
We need to remind ourselves that throughout the Bible … God's coming judgment is a good thing….
In a world of systematic injustice, bullying, violence, arrogance, and oppression, the thought that there might come a day when the wicked are firmly put in their place and the poor and the weak are given their due is the best news there can be."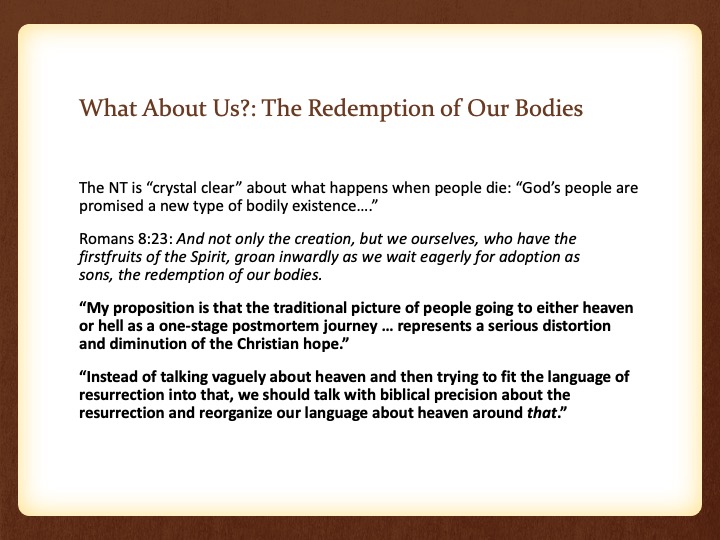 What About Us?: The Redemption of Our Bodies
The NT is "crystal clear" about what happens when people die: "God's people are promised a new type of bodily existence…."
Romans 8:23: And not only the creation, but we ourselves, who have the firstfruits of the Spirit, groan inwardly as we wait eagerly for adoption as sons, the redemption of our bodies.
"My proposition is that the traditional picture of people going to either heaven or hell as a one-stage postmortem journey … represents a serious distortion and diminution of the Christian hope."
"Instead of talking vaguely about heaven and then trying to fit the language of resurrection into that, we should talk with biblical precision about the resurrection and reorganize our language about heaven around that."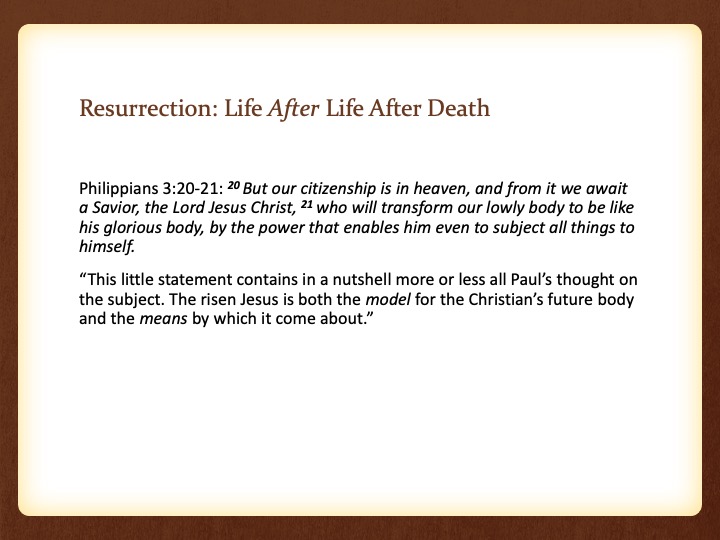 Resurrection: Life After Life After Death
Philippians 3:20-21: 20 But our citizenship is in heaven, and from it we await a Savior, the Lord Jesus Christ, 21 who will transform our lowly body to be like his glorious body, by the power that enables him even to subject all things to himself.
"This little statement contains in a nutshell more or less all Paul's thought on the subject. The risen Jesus is both the model for the Christian's future body and the means by which it come about."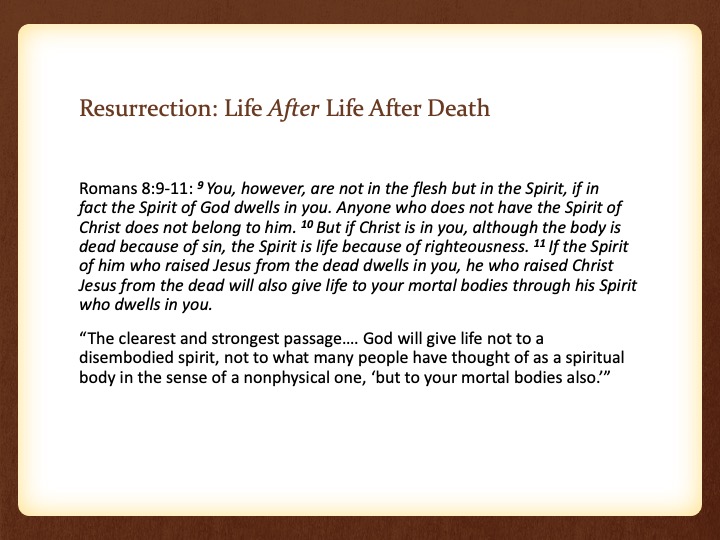 Resurrection: Life After Life After Death
Romans 8:9-11: 9 You, however, are not in the flesh but in the Spirit, if in fact the Spirit of God dwells in you. Anyone who does not have the Spirit of Christ does not belong to him. 10 But if Christ is in you, although the body is dead because of sin, the Spirit is life because of righteousness. 11 If the Spirit of him who raised Jesus from the dead dwells in you, he who raised Christ Jesus from the dead will also give life to your mortal bodies through his Spirit who dwells in you.
"The clearest and strongest passage…. God will give life not to a disembodied spirit, not to what many people have thought of as a spiritual body in the sense of a nonphysical one, 'but to your mortal bodies also.'"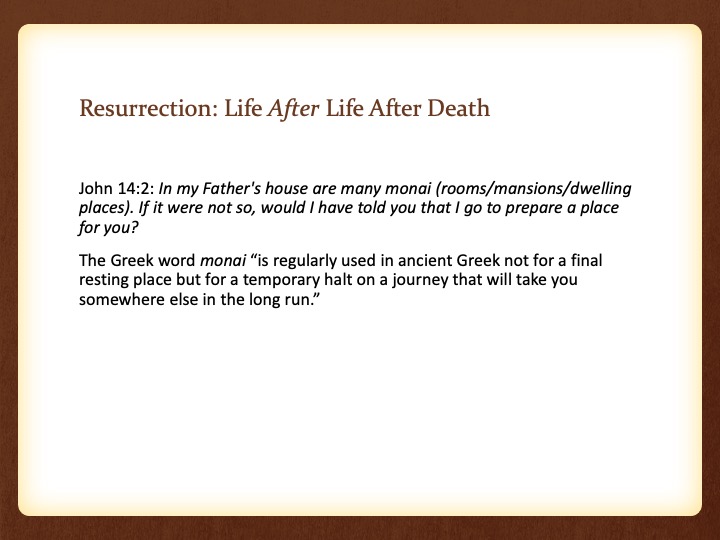 Resurrection: Life After Life After Death
John 14:2: In my Father's house are many monai (rooms/mansions/dwelling places). If it were not so, would I have told you that I go to prepare a place for you?
The Greek word monai "is regularly used in ancient Greek not for a final resting place but for a temporary halt on a journey that will take you somewhere else in the long run."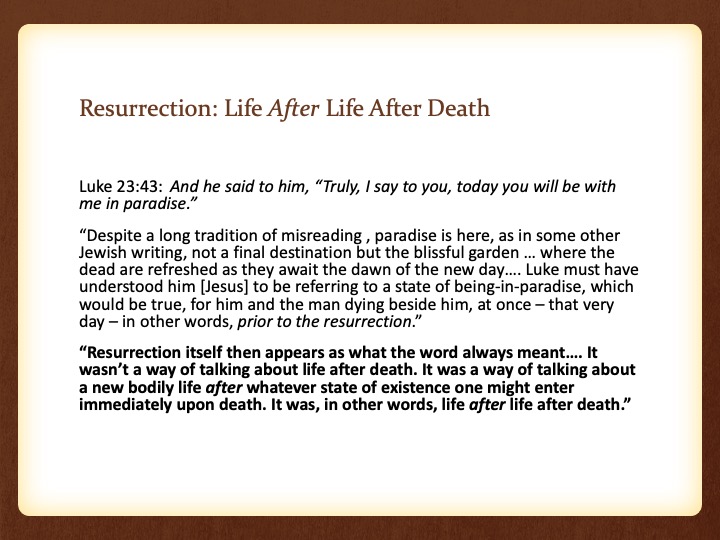 Resurrection: Life After Life After Death
Luke 23:43:  And he said to him, "Truly, I say to you, today you will be with me in paradise."
"Despite a long tradition of misreading , paradise is here, as in some other Jewish writing, not a final destination but the blissful garden … where the dead are refreshed as they await the dawn of the new day…. Luke must have understood him [Jesus] to be referring to a state of being-in-paradise, which would be true, for him and the man dying beside him, at once – that very day – in other words, prior to the resurrection."
"Resurrection itself then appears as what the word always meant…. It wasn't a way of talking about life after death. It was a way of talking about a new bodily life after whatever state of existence one might enter immediately upon death. It was, in other words, life after life after death"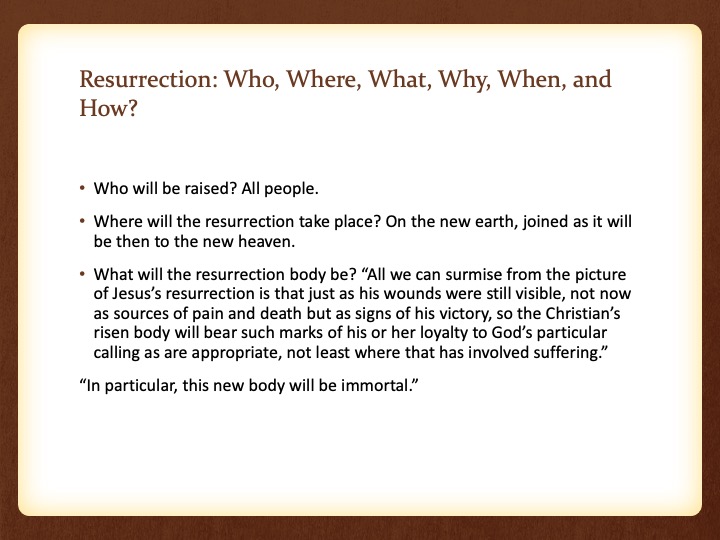 Resurrection: Who, Where, What, Why, When, and How?
Who will be raised? All people.
Where will the resurrection take place? On the new earth, joined as it will be then to the new heaven.
What will the resurrection body be? "All we can surmise from the picture of Jesus's resurrection is that just as his wounds were still visible, not now as sources of pain and death but as signs of his victory, so the Christian's risen body will bear such marks of his or her loyalty to God's particular calling as are appropriate, not least where that has involved suffering."
"In particular, this new body will be immortal."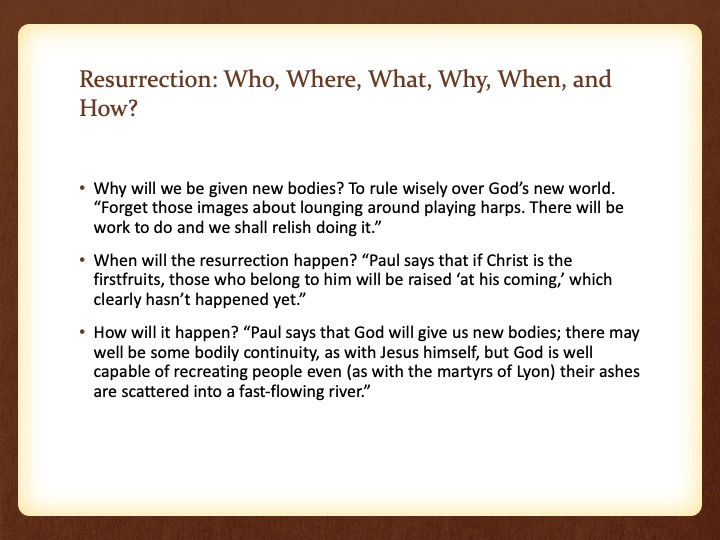 Resurrection: Who, Where, What, Why, When, and How?
Why will we be given new bodies? To rule wisely over God's new world. "Forget those images about lounging around playing harps. There will be work to do and we shall relish doing it."
When will the resurrection happen? "Paul says that if Christ is the firstfruits, those who belong to him will be raised 'at his coming,' which clearly hasn't happened yet."
How will it happen? "Paul says that God will give us new bodies; there may well be some bodily continuity, as with Jesus himself, but God is well capable of recreating people even (as with the martyrs of Lyon) their ashes are scattered into a fast-flowing river."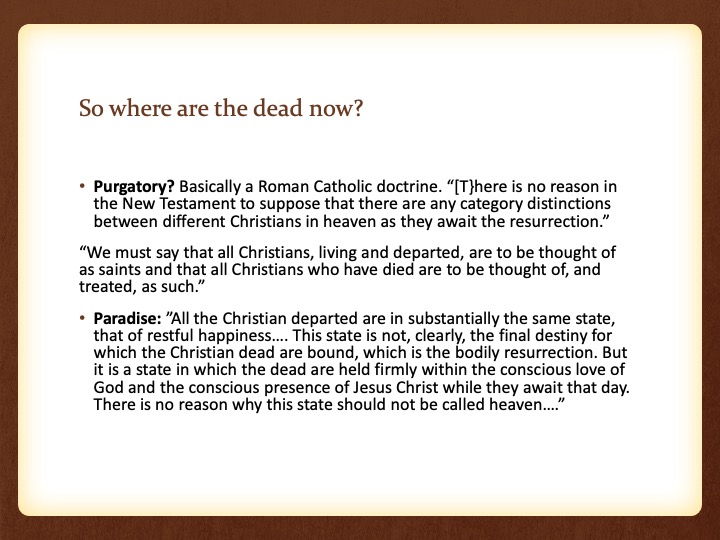 So where are the dead now?
Purgatory? Basically a Roman Catholic doctrine. "[T}here is no reason in the New Testament to suppose that there are any category distinctions between different Christians in heaven as they await the resurrection."
"We must say that all Christians, living and departed, are to be thought of as saints and that all Christians who have died are to be thought of, and treated, as such."
Paradise: "All the Christian departed are in substantially the same state, that of restful happiness…. This state is not, clearly, the final destiny for which the Christian dead are bound, which is the bodily resurrection. But it is a state in which the dead are held firmly within the conscious love of God and the conscious presence of Jesus Christ while they await that day. There is no reason why this state should not be called heaven…."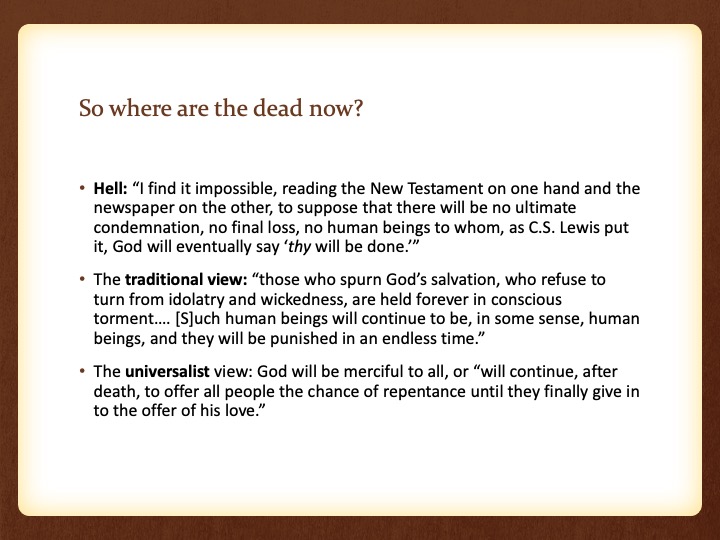 So where are the dead now?
Hell: "I find it impossible, reading the New Testament on one hand and the newspaper on the other, to suppose that there will be no ultimate condemnation, no final loss, no human beings to whom, as C.S. Lewis put it, God will eventually say 'thy will be done.'"
The traditional view: "those who spurn God's salvation, who refuse to turn from idolatry and wickedness, are held forever in conscious torment…. [S]uch human beings will continue to be, in some sense, human beings, and they will be punished in an endless time."
The universalist view: God will be merciful to all, or "will continue, after death, to offer all people the chance of repentance until they finally give in to the offer of his love."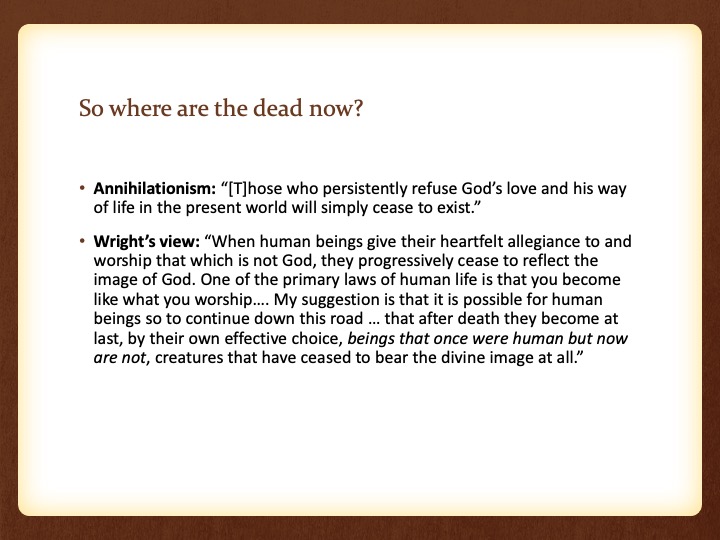 So where are the dead now?
Annihilationism: "Those who persistently refuse God's love and his way of life in the present world will simply cease to exist."
Wright's view: "When human beings give their heartfelt allegiance to and worship that which is not God, they progressively cease to reflect the image of God. One of the primary laws of human life is that you become like what you worship…. My suggestion is that it is possible for human beings so to continue down this road … that after death they become at last, by their own effective choice, beings that once were human but now are not, creatures that have ceased to bear the divine image at all."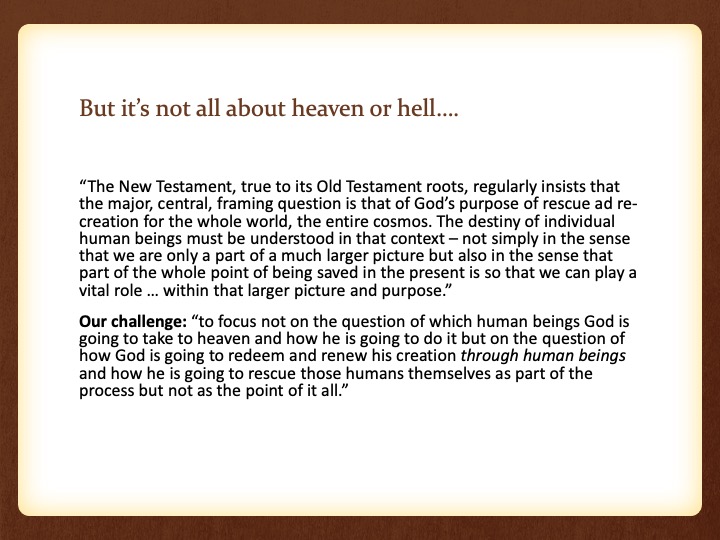 But it's not all about heaven or hell….
"The New Testament, true to its Old Testament roots, regularly insists that the major, central, framing question is that of God's purpose of rescue ad re-creation for the whole world, the entire cosmos. The destiny of individual human beings must be understood in that context – not simply in the sense that we are only a part of a much larger picture but also in the sense that part of the whole point of being saved in the present is so that we can play a vital role … within that larger picture and purpose."
Our challenge: "to focus not on the question of which human beings God is going to take to heaven and how he is going to do it but on the question of how God is going to redeem and renew his creation through human beings and how he is going to rescue those humans themselves as part of the process but not as the point of it all."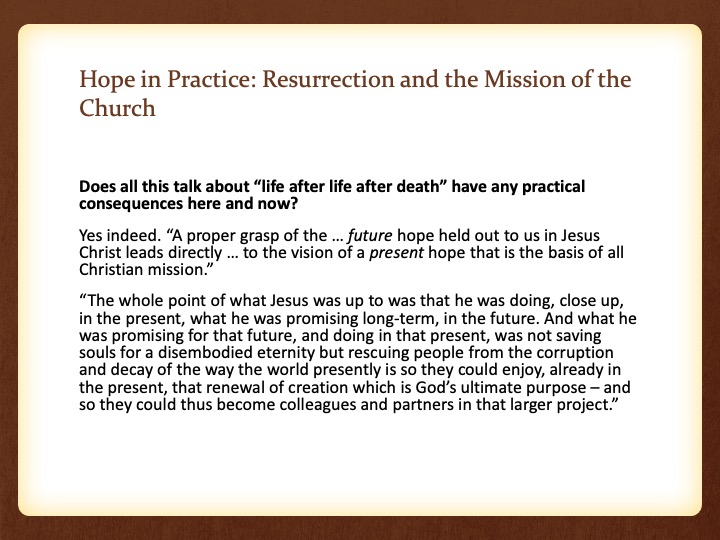 Hope in Practice:
Resurrection and the Mission of the Church
Does all this talk about "life after life after death" have any practical consequences here and now?
Yes indeed. "A proper grasp of the … future hope held out to us in Jesus Christ leads directly … to the vision of a present hope that is the basis of all Christian mission."
"The whole point of what Jesus was up to was that he was doing, close up, in the present, what he was promising long-term, in the future. And what he was promising for that future, and doing in that present, was not saving souls for a disembodied eternity but rescuing people from the corruption and decay of the way the world presently is so they could enjoy, already in the present, that renewal of creation which is God's ultimate purpose – and so they could thus become colleagues and partners in that larger project."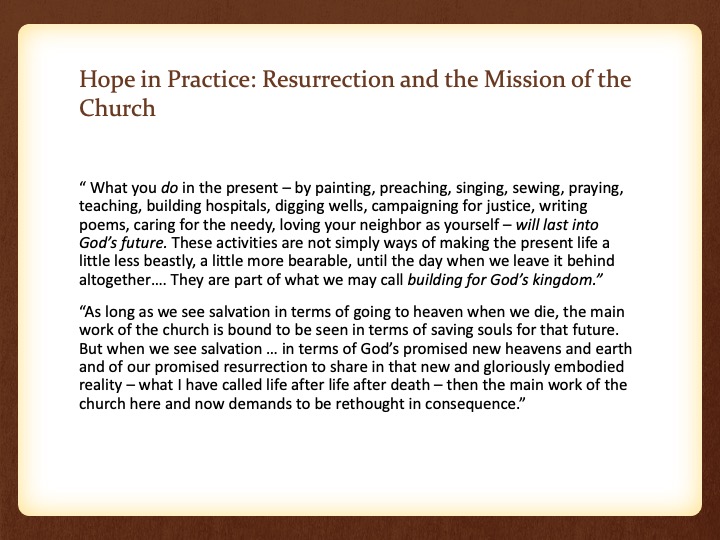 Hope in Practice:
Resurrection and the Mission of the Church
" What you do in the present – by painting, preaching, singing, sewing, praying, teaching, building hospitals, digging wells, campaigning for justice, writing poems, caring for the needy, loving your neighbor as yourself – will last into God's future. These activities are not simply ways of making the present life a little less beastly, a little more bearable, until the day when we leave it behind altogether…. They are part of what we may call building for God's kingdom." 
"As long as we see salvation in terms of going to heaven when we die, the main work of the church is bound to be seen in terms of saving souls for that future. But when we see salvation … in terms of God's promised new heavens and earth and of our promised resurrection to share in that new and gloriously embodied reality – what I have called life after life after death – then the main work of the church here and now demands to be rethought in consequence."
And That's It - Christian Hope - Discussion.
Christian Hope Lesson 2