Mission Presbytery Report

by Stacy Ikard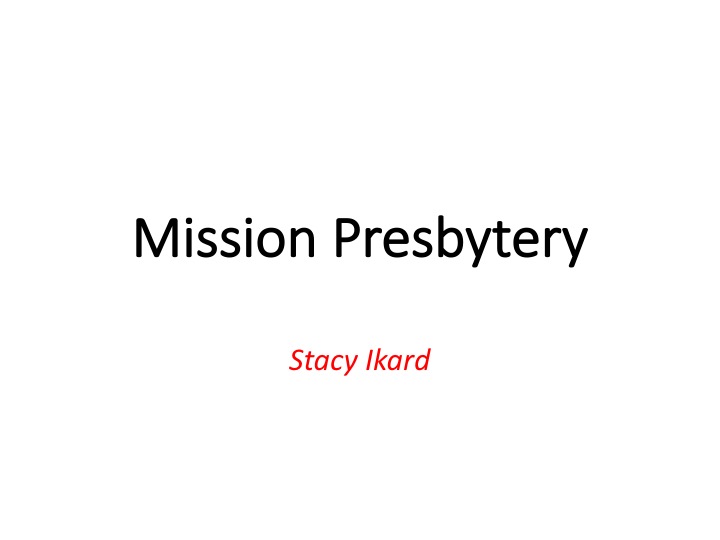 Thank you for the invitation today. I enjoy meeting with this class and wish I had time to do it more often. Now talking about a Presbytery like Mission Presbytery may not be as interesting as many of the subjects you folks study, but as a Presbyterian it can be important and so it may be a good idea to understand it.
I want to begin with some background. I know some of you may be familiar with what a Presbytery does, but I am going to assume that some of you may have come from other denominations and are not that familiar with a Presbytery and so I am going to begin at a fundamental level.
One thing you need to realize is that WHPC has not been all that active in Mission Presbytery. We are now but that has changed over the years. I know that there have been some members who voluntarily attended Presbytery meetings, but as a congregation we were not always that active. So forgive me if I am beginning at too basic a level but I want to get us all on the same page before we get more in-depth.
The Book of order of the Presbyterian church describes how the Presbyterian Church is built on the principles of Representative government. Representative government is not quite the same thing as Congregational government.  Our system is not built around a system of "the majority rules". If you were raised in a Baptist or a non-denominational church, you were in a church where the majority rules.  If 60% of the congregation in a Congregational church got together in a congregational meeting and voted to remove the pastor – the pastor goes. If 60% of the members gets together and decides to stop giving money to Operation Christmas Child and decided we want to send that our money to feed the children in Sudan – that's what will happen. 
But in the Presbyterian Church our form of government dates back about 300 years, we operate with representative democracy, so it is similar to the way the country runs. The congregation selects officer and the officers make the decisions. So Sessions decide how the money will be spent. The sessions decide for the most part on the staffing of the church, except for the calling of the pastor. 
So, one thing that the congregation in a Presbyterian church gets to do is select your pastor, in conjunction with the Presbytery. And we will get back to that. 
And the congregation gets involved with selling or encumbering the church property, but guess who else gets involved with that – the Presbytery. Because of all of this the higher levels of church government – the Presbytery, the Synod, and General Assembly, are more important to what a congregation can do.
The Presbytery meets 3 times a year, somewhere in Central Texas, and representatives from all the churches go there and decisions are made on behalf of the larger church by the group that is gathered in that meeting.
So we held that meeting yesterday. The last meeting of this year. We met on Zoom for 4 hours!  (t was awful and wonderful).
In that meeting decisions are made that all 20,000 Presbyterians in central Texas live with, or abide by.
Presbyteries vary greatly in their size, in their scope, and in how they work. The Book of Order basically says they are gatherings of local churches and they have specific tasks. They are to help churches find pastors, take care of their pastors, and resolve issues with their pastors. So they have an important role in providing good leadership in Presbyterian churches.
They are also important in organizing churches to work together in missions, and one of the most important missions, interestingly, is in getting churches to work together in starting new churches. There is no other body that does that.
Really big churches can potentially plant churches themselves, but even a fairly large church like WHPC, is not big enough to do that. 
Presbyteries can do a lot more than that, but that is a bottom line list of the principle work of most presbyteries.  
We have Presbyteries so small in our country that they may have only 25 churches. Some are so small that they can have their meetings in a dining hall of one of their churches. 
Some Presbyteries are very large. Mission Presbytery is fairly large but we are not in the top ten.
So, in summary a Presbytery is an organization of local churches in a regional area with specific responsibilities. 
Mission Presbytery 
Now let's talk about the one that we are part of – Mission Presbytery. It goes from the Rio Grande Valley and the coast (Corpus Christi)., and goes all the way to the Hill Country, including San Antonio and Austin and as far north as Georgetown. 
It is a huge geographic area. If you can imagine driving from Georgetown to Brownsville Texas for a Presbytery meeting. Let me show you some statistics about our first our Presbyterian Church and then our Presbytery.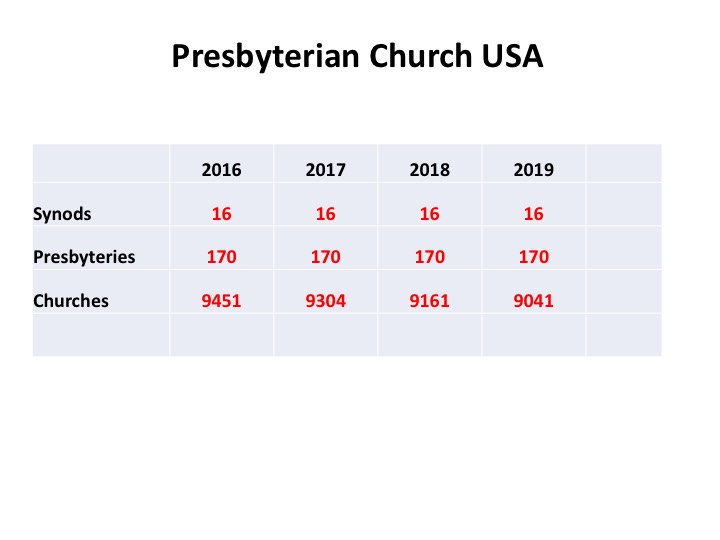 Let me review some statistics about the Presbyterian Church nationwide first and we will gradually move toward our Presbytery.  This slide shows the overall structure of churches organized into Presbyteries and then into large Synods. As you can see over the years 2016 thru 0219 there were 16 Synods, and 170 Presbyteries in the US.  Neither of those numbers have changed. But when you get to the third line of churches you see a pattern. The number of Presbyterian churches have been declining as smaller churches close down, or on some cases churches leave our denomination. In these four years a decline of 410 churches. 
This is of concern, but represents some improvement over previous years when the decline in churches was more significant. Much of the earlier trend was led by churches leaving the denomination. 
Next I would like to review church sizes for you - this is still in the entire denomination.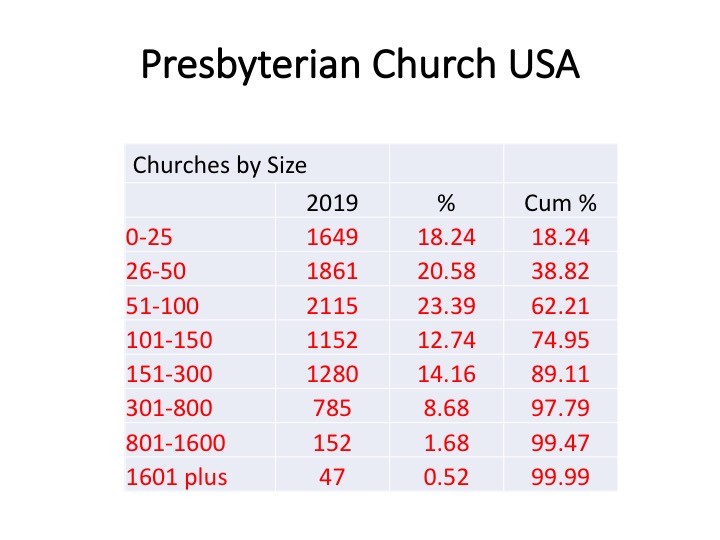 In our denomination you may be surprised by how small Presbyterian churches were in 2019 across the country.  The first column is the range of church membership (not attendance). The second column is the percentage of churches that are in that range and the third column is the cumulative percentages.  So if we look for instance at Presbyterian churches in the US who have memberships less than150 members, they make up 75% of all Presbyterian churches.  Less than 300 is 98%.
The average Presbyterian church is a very small church! And our church (WHPC) is in this group of churches of 1601 and higher that makes up only 0.52% of the denomination. So we are not the norm at all. And not shown here is a trend that the percentage of churches that are small is slowly growing. 
But I think that the average member of WHPC probably has not  realized that we are a bit of an anomaly. 
Mission Presbytery
Now let's get a little more focused on Mission Presbytery.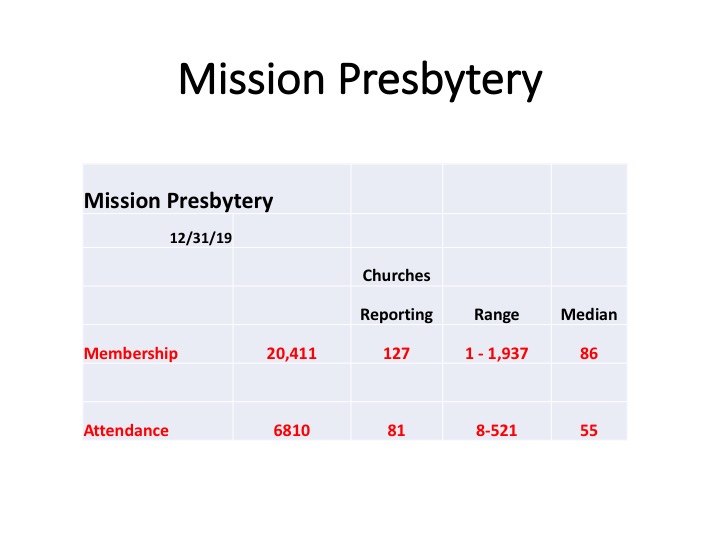 This is where Mission Presbytery stands right now as of 12/31/2019. 20,411 members in 127 churches. And that stretches everywhere from Brownsville to Georgetown.
The membership range is from 1 to 1,937. Yes we literally had one church last year with a single member. This year (in 2020) we closed that church. 
But the largest church reported a membership of 1,937. Does anyone want to guess which church that is?  That is us - WHPC. We are the largest church in the Presbytery.  Again we are not the norm.
And very important to note. The median church is 86 members.  For any of you not used to statistical terms median does not mean the simple average. Median means half of all the churches have less than 86 members and the other half have more than 86 members.  Why is this important? Because it takes about 120 church members to support a full time pastor.
So none of the churches below the median of 86 (and some of the ones immediately above the median cannot support a full time pastor. That means that more than half of our churches cannot support a full time pastor. This is really import to understand and I will talk more about when I talk about the work of the Presbytery.
The next line of information on this slide is the attendance at the Mission Presbytery churches. 6810 average attendance. Note that this is based on only 81 churches reporting their attendance. Many of them decline to supply attendance numbers.
And the attendance range between 8 and 521. Does anyone know what our average attendance number was for 2019?  It was 521. So not only are we at the top of the range in membership, but also in attendance. But the median attendance was 55 across the Presbytery. 
The Work of Mission Presbytery
And I share this to basically say to you that the work of Mission Presbytery, more than anything else, is to try to help the average church, which as you can see is a small church, to be able to continue its ministry, even without a full time minister. Remember, as I said earlier, more than half  of all the churches reporting in Mission Presbytery cannot support a full time minister.
So one of our ongoing tasks is  to train certain ruling elders like many of you to preach, administer the sacraments and do many things that ordained ministers can do.  These churches will not have an ordained minister. They may share a pastor between a church or two.  Mission Presbytery often tries to broker those kind of relationships.  The Presbytery keeps a list of people in the Presbytery who are able and willing to preach.  For  years before I was your pastor I was on that list for six months.  My husband Al has been on that list forever since he left  your church and it is the presbytery's job to try and help these churches.  At least to keep a pastor in the pulpit  for once a month so they can have communion.  A lot of energy is spent  by Mission Presbytery to help the small churches where they will be able to bring another pastor or board or find a way to thrive as a church in a small community without having to have a full time pastor.

So that is a general overview of what happens.  There are several specific things I want to talk about. 
Mission Presbytery - Key Challenges
What are the biggest challenges facing the Mission Presbytery? Like every Presbytery it takes money.  To train new leaders, train ruling elders, start a new church;  To properly start a new church you almost need 1 million $ in the bank. And with the churches getting smaller, and membership getting smaller the sources are steadily getting smaller.
We pay a per capita per member. ($16 - 17 per person) Mission Presbytery asks for a pledge for each church Presbytery has to see we have everything we need to meet  challenges. 
Geography is another issue.  One of our desires is for the church to be a witness to justice. Especially on the border.  But the churches on the border don't always feel the solidarity of  the churches all the way up to  Georgetown and Austin in this endeavor.  Need to try to help... especially near the border.  
Another issue.. churches when they are at the end of their life.  This is becoming more and more important because we are closing between 3-5 churches a year. 
These churches have buildings, furnishings,  and other holdings. When they invite Mission Presbytery in to help everything becomes the Presbytery's responsibility. the Mission Presbytery has to pay the taxes because the buildings are no longer tax free. We need to have a closing ceremony. The Presbytery has to handle the furnishings,  cut the grass, handle the church building. Sometimes hire a real estate pro to handle many of these details. It is not the type of work that many of the staff of the Presbytery thought they would be doing. Much of this is being done by  volunteers.. Neighboring pastors and members all of a sudden have to handle the ending of the church. 
If  a church knows it is at the end of the life they have to tell the presbytery.  It is a hard decision.  Needs a lot of pastoral care to do it well.  We are getting better at it but it is very hard.
Mission Presbytery - Some Successes
Mission Presbytery has had successes. In 2014 the largest church in in the presbytery left the denomination  - First Presbyterian in San Antonio.  They paid a required fee to leave and that was set aside to help a number of small churches survive.  That money was used to give new life to a number of small churches.
My favorite story  - La Feria church didn't have a food pantry for their town,  People at the church wanted to take care of it.  With their grant they started a small food pantry for hungry people in their town. That was two years ago. They now give out food 5 days a week and have a large garden and they grow their own food on a five acre garden.  Put the bag of food in a prayer garden and people come to leave a prayer request and then take a food bag.  It was only a half million dollars to start this. Great story.
Haven't planted a successful new church planting 10 years.  Have to get new start.  So we hired a excellent student (Ezekiel Herrera)  from the seminary to go to the valley to start a new church.  Great minister.  He is working with the startup and  works hard with the creative outreach in the valley. Using the available buildings for his projects. This is looking like it could be a success.

John Knox Ranch
And finally we own our own camp. Most other Presbyteries have sold their camps but we have not.  I want you to see this video about this camp - now called John Knox Ranch It is 300 acres of very natural land. The land is protected from being developed so it will be conserved for years to come. - it will never be subdivided.
John Knox - the 300 acres are outside of Wimberley, Texas. Very natural and beautiful area.  Land is protected from being developed.  Conserve land for years to come.  Will never be subdivided.  Long term goals – protection of land and endowment to protect the ranch.  Working on this over a year. Listen carefully to the short and beautiful video. The speaker is the Ranch Director Henry Owen, a very competent young man. The video is self explanatory about what we are doing - enjoy.
You will be happy to know that yesterday we passed a motion at the October Mission Presbytery meeting with a lot of discussion, but no dissent.   The motion was that the conservation easement be allowed and now Hays county will vote on it in November. If the proposal goes well this land trust will be paying our Presbytery a significant amount of money so it is a real win-win for us. We get to keep the land and get to use the land but we would also have that money to keep the ministry afloat and also keep it out of the Presbytery budget.
Thank you for the chance to present all of this.
Stacy
Mission Presbytery Report