Leadership in the Bible - Part I
Study Guide - Sandy Kress
---
Leadership in the Bible - Part I
Moses
I. Read Exodus 3:1-4, 7-15.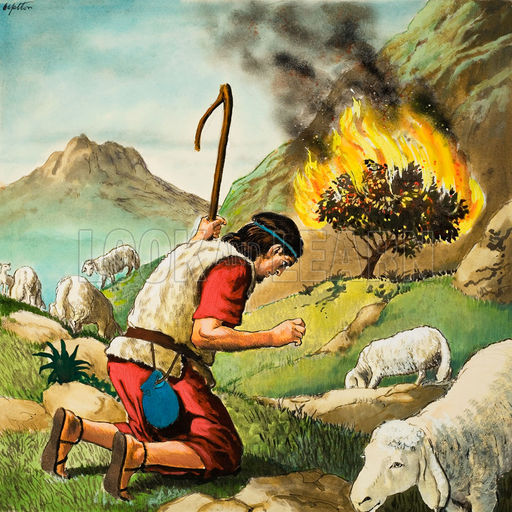 3 Moses was taking care of the flock for his father-in-law Jethro, Midian's priest. He led his flock out to the edge of the desert, and he came to God's mountain called Horeb.  2 The Lord's messenger appeared to him in a flame of fire in the middle of a bush. Moses saw that the bush was in flames, but it didn't burn up.3 Then Moses said to himself, Let me check out this amazing sight and find out why the bush isn't burning up.
4 When the Lord saw that he was coming to look, God called to him out of the bush, "Moses, Moses!"
Moses said, "I'm here."
7 Then the Lord said, "I've clearly seen my people oppressed in Egypt. I've heard their cry of injustice because of their slave masters. I know about their pain. 8 I've come down to rescue them from the Egyptians in order to take them out of that land and bring them to a good and broad land, a land that's full of milk and honey, a place where the Canaanites, the Hittites, the Amorites, the Perizzites, the Hivites, and the Jebusites all live. 9 Now the Israelites' cries of injustice have reached me. I've seen just how much the Egyptians have oppressed them. 10 So get going. I'm sending you to Pharaoh to bring my people, the Israelites, out of Egypt."
11 But Moses said to God, "Who am I to go to Pharaoh and to bring the Israelites out of Egypt?"
12 God said, "I'll be with you. And this will show you that I'm the one who sent you. After you bring the people out of Egypt, you will come back here and worship God on this mountain."
God's special name
13 But Moses said to God, "If I now come to the Israelites and say to them, 'The God of your ancestors has sent me to you,' they are going to ask me, 'What's this God's name?' What am I supposed to say to them?"
14 God said to Moses, "I Am Who I Am. So say to the Israelites, 'I Am has sent me to you.'" 15 God continued, "Say to the Israelites, 'The Lord, the God of your ancestors, Abraham's God, Isaac's God, and Jacob's God, has sent me to you.' This is my name forever; this is how all generations will remember me.
---
Questions
A. What important attributes of leadership do we initially see in this account?
B. What do we make of Moses' doubts? What do we make of Moses' request for authenticity and proof from God?
 C.  What do we learn from this experience that informs our own exercise of leadership?
---
II. Read Exodus 18:13-24

                   Charlton Heston and Eduard Franz as Moses and Jethro                   (The 10 Commandments)
13 The next day Moses sat as a judge for the people, while the people stood around Moses from morning until evening. 14 When Moses' father-in-law saw all that he was doing for the people, he said, "What's this that you are doing for the people? Why do you sit alone, while all the people are standing around you from morning until evening?"

15 Moses said to his father-in-law, "Because the people come to me to inquire of God. 16 When a conflict arises between them, they come to me and I judge between the two of them. I also teach them God's regulations and instructions."
Moses Had a Mentor
17 Moses' father-in-law said to him, "What you are doing isn't good. 18 You will end up totally wearing yourself out, both you and these people who are with you. The work is too difficult for you. You can't do it alone. 19 Now listen to me and let me give you some advice. And may God be with you! Your role should be to represent the people before God. You should bring their disputes before God yourself. 20 Explain the regulations and instructions to them. Let them know the way they are supposed to go and the things they are supposed to do. 21 But you should also look among all the people for capable persons who respect God. They should be trustworthy and not corrupt. Set these persons over the people as officers of groups of thousands, hundreds, fifties, and tens. 22 Let them sit as judges for the people at all times. They should bring every major dispute to you, but they should decide all of the minor cases themselves. This will be much easier for you, and they will share your load. 23 If you do this and God directs you, then you will be able to endure. And all these people will be able to go back to their homes much happier."
24 Moses listened to his father-in-law's suggestions and did everything that he had said.
Read Deuteronomy 1:16-18
16 At that same time, I commanded your judges: Listen to your fellow tribe members and judge fairly, whether the dispute is between one fellow tribe member or between a tribe member and an immigrant. 17 Don't show favoritism in a decision. Hear both sides out, whether the person is important or not. Don't be afraid of anyone because the ruling belongs to God. Any dispute that is too difficult for you to decide, bring to me and I will take care of it.
18 So at that time, I commanded you concerning everything you were to do.
Deuteronomy 16:18-20. 
18 Appoint judges and officials for each of your tribes in every city that the Lord your God gives you. They must judge the people fairly. 19 Don't delay justice; don't show favoritism. Don't take bribes because bribery blinds the vision of the wise and twists the words of the righteous. 20 Righteousness! Pursue righteousness so that you live long and take possession of the land that the Lord your God is giving you.

---
Questions
A. What attribute of leadership does Jethro teach Moses?  
B. What other lessons do we learn from these verses that are crucial to the proper implementation of Jethro's advice?
C. Why does all this matter to us? 
---
III. Read Exodus 31:1-11. 

1 The Lord spoke to Moses: 2 Look, I have chosen Bezalel, Uri's son and Hur's grandson from the tribe of Judah. 3 I have filled him with the divine spirit, with skill, ability, and knowledge for every kind of work. 4 He will be able to create designs; do metalwork in gold, silver, and copper; 5 cut stones for setting; carve wood; and do every kind of work. 6 I have also appointed with him Oholiab, Ahisamach's son from the tribe of Dan. To all who are skillful, I have given the skill to make everything that I have commanded you: 7 the meeting tent, the chest containing the covenant, the cover that is on top of it, all the tent's furnishings, 8 the table and its equipment, the pure lampstand with all its equipment, the incense altar, 9 the altar for entirely burned offerings with all its equipment, the washbasin with its stand, 10 the woven clothing, the holy clothes for Aaron the priest and for his sons for their service as priests, 11 the anointing oil, and the sweet-smelling incense for the sanctuary. They will do just as I have commanded you.

---
Questions
A. We just learned a lesson about leadership that we re-learn here. Do you see what it is?
B. Look at verses 3 and 6. The artists are "filled with the spirit of God in wisdom, understanding, knowledge, and craftsmanship" and to be "wise of heart." What does all that mean? 
---
IV. We're now going to read a few pieces of one of the most compelling stories in the Hebrew Bible. They evidence remarkable leadership in a crisis. I'll intersperse the reading with questions.   
Read Exodus 32:7-15, 19-20.
7 The Lord spoke to Moses: "Hurry up and go down! Your people, whom you brought up out of the land of Egypt, are ruining everything! 8 They've already abandoned the path that I commanded. They have made a metal bull calf for themselves. They've bowed down to it and offered sacrifices to it and declared, 'These are your gods, Israel, who brought you up out of the land of Egypt!'" 9 The Lord said to Moses, "I've been watching these people, and I've seen how stubborn they are. 10 Now leave me alone! Let my fury burn and devour them. Then I'll make a great nation out of you."
11 But Moses pleaded with the Lord his God, "Lord, why does your fury burn against your own people, whom you brought out of the land of Egypt with great power and amazing force? 12 Why should the Egyptians say, 'He had an evil plan to take the people out and kill them in the mountains and so wipe them off the earth'? Calm down your fierce anger. Change your mind about doing terrible things to your own people. 13 Remember Abraham, Isaac, and Israel, your servants, whom you yourself promised, 'I'll make your descendants as many as the stars in the sky. And I've promised to give your descendants this whole land to possess for all time.'" 14 Then the Lord changed his mind about the terrible things he said he would do to his people.
15 Moses then turned around and came down the mountain. He carried the two covenant tablets in his hands. The tablets were written on both sides, front and back.
19 When he got near the camp and saw the bull calf and the dancing, Moses was furious. He hurled the tablets down and shattered them in pieces at the foot of the mountain. 20 He took the calf that they had made and burned it in a fire. Then he ground it down to crushed powder, scattered it on the water, and made the Israelites drink it.
Read Exodus 33:1-3. Then, Exodus 33:12:21. 

1 The Lord said to Moses, "Go and leave this place, you and the people whom you brought up out of the land of Egypt. Go to the land I promised to Abraham, Isaac, and Jacob when I said, 'I'll give it to your descendants.' 2 I'll send a messenger before you. I'll drive out the Canaanites, the Amorites, the Hittites, the Perizzites, the Hivites, and the Jebusites. 3 Go to this land full of milk and honey. But I won't go up with you because I would end up destroying you along the way since you are a stubborn people."
12 Moses said to the Lord, "Look, you've been telling me, 'Lead these people forward.' But you haven't told me whom you will send with me. Yet you've assured me, 'I know you by name and think highly of you. 13 Now if you do think highly of me, show me your ways so that I may know you and so that you may really approve of me. Remember too that this nation is your people."
14 The Lord replied, "I'll go myself, and I'll help you."
15 Moses replied, "If you won't go yourself, don't make us leave here. 16 Because how will anyone know that we have your special approval, both I and your people, unless you go with us? Only that distinguishes us, me and your people, from every other people on the earth."
17 The Lord said to Moses, "I'll do exactly what you've asked because you have my special approval, and I know you by name."
18 Moses said, "Please show me your glorious presence."
19 The Lord said, "I'll make all my goodness pass in front of you, and I'll proclaim before you the name, 'The Lord.' I will be kind to whomever I wish to be kind, and I will have compassion to whomever I wish to be compassionate. 20 But," the Lord said, "you can't see my face because no one can see me and live."
 Read Exodus 34:4-10. 
4 So Moses cut two stone tablets like the first ones. He got up early in the morning and climbed up Mount Sinai, just as the Lord had commanded him. He carried the two stone tablets in his hands. 5 The Lord came down in the cloud and stood there with him, and proclaimed the name, "The Lord." 6 The Lord passed in front of him and proclaimed:
    "The Lord! The Lord!
      a God who is compassionate and merciful,
        very patient,
        full of great loyalty and faithfulness,
        forgiving every kind of sin and rebellion,
        yet by no means clearing the guilty,
        punishing for their parents' sins
        their children and their grandchildren,
        as well as the third and the fourth generation."
8 At once Moses bowed to the ground and worshipped. 9 He said, "If you approve of me, my Lord, please go along with us. Although these are stubborn people, forgive our guilt and our sin and take us as your own possession."
10 The Lord said: I now make a covenant. In front of all your people, I'll perform dramatic displays of power that have never been done before anywhere on earth or in any nation. All the people who are around you will see what the Lord does, because I will do an awesome thing with you.
---
Questions
A. What first steps does Moses take when he becomes aware of the serious problem? What risks does he take on in each action he takes? 
B. How does Moses advocate to God? What difference does it make? Is Moses able to turn God's heart and, in doing so, secure additional crucial support for the people?
C. What do we learn form Moses' example that helps us be better leaders in our own lives?
---
V.  Read each of these passages. I have a question for each. 
A. Deuteronomy 29:1-15. 
1 These are the words of the covenant the Lord commanded Moses to make with the Israelites in the land of Moab in addition to the covenant he had made with them at Horeb. 2 Moses summoned all Israel, saying to them:
You've seen with your own eyes everything the Lord did in Egypt, to Pharaoh, his servants, and all his land— 3 the great trials your eyes witnessed, those awesome signs and wonders! 4 But until this very moment, the Lord hasn't given you insight to understand, eyes to see, or ears to hear. 5 I've led you in the wilderness forty years now; neither the clothes on your back nor the sandals on your feet have worn out. 6 Neither have you eaten bread nor drunk wine or beer during this time—so that you would know that I am the Lord your God. 7 When you arrived here, Sihon, Heshbon's king, and Og, Bashan's king, marched out to fight against us, but we defeated them. 8 We took possession of their land and gave it as an inheritance to the Reubenites, Gadites, and half of Manasseh's tribe. 9 So then keep the words of this covenant and do them so you can succeed in all you do.
10 Right now, all of you are in the presence of the Lord your God—the leaders of your tribes, your elders, and your officials, all the Israelite males, 11 your children, your wives, and the immigrants who live with you in your camp, the ones who chop your wood and those who draw your water— 12 ready to enter into the Lordyour God's covenant and into the agreement that the Lord your God is making with you right now. 13 That means the Lord will make you his own people right now—he will be your God just as he promised you and just as he swore to our ancestors: to Abraham, Isaac, and Jacob. 14 But I'm not making this covenant and this agreement with you alone 15 but also with those standing here with us right now before the Lord our God, and also with those who aren't here with us right now.
What is Moses doing here that is indicative of one of the greatest acts of a leader?
B. Deuteronomy 30:11-14. 
11 This commandment that I'm giving you right now is definitely not too difficult for you. It isn't unreachable. 12 It isn't up in heaven somewhere so that you have to ask, "Who will go up for us to heaven and get it for us that we can hear it and do it?" 13 Nor is it across the ocean somewhere so that you have to ask, "Who will cross the ocean for us and get it for us that we can hear it and do it?" 14 Not at all! The word is very close to you. It's in your mouth and in your heart, waiting for you to do it.
Why is this statement so important for a leader to make to the people?
C. Deuteronomy 32:1-4. 
1 Heaven! Pay attention and I will speak;
    Earth! Listen to the words of my mouth.
2 My teaching will fall like raindrops;
    my speech will settle like dew—
        like gentle rains on grass,
        like spring showers on all that is green—
3             because I proclaim the Lord's name:
    Give praise to our God!
4 The rock: his acts are perfection!
    No doubt about it: all his ways are right!
He's the faithful God, never deceiving;
    altogether righteous and true is he.

Given the "punishment" Moses suffers, what makes this statement so poignant and so important for us to read/hear from this extraordinary leader near the end of his life?
Leadership in the Bible - Part I  - Study Guide
Links


     

< 

Home Page

 >   < 

L

eadership in the Bible > 
Scripture taken from the Common English Bible®, CEB® Copyright © 2010, 2011 by Common English Bible.™ Used by permission. All rights reserved worldwide. The "CEB" and "Common English Bible" trademarks are registered in the United States Patent and Trademark Office by Common English Bible. Use of either trademark requires the permission of Common English Bible.