The End Times - Lesson I
Chris Knepp
The End Times - Lesson I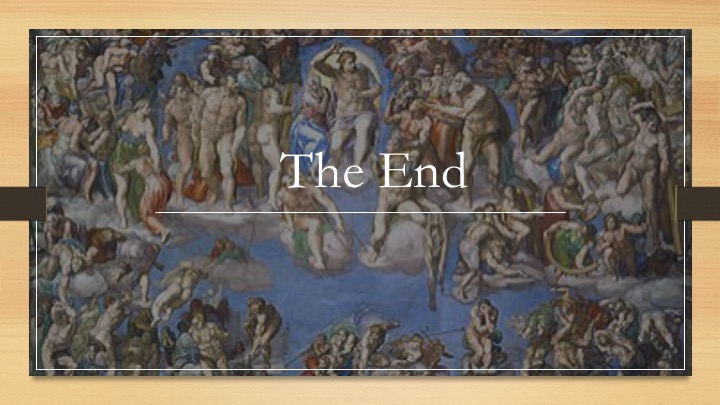 And we begin our lesson on the End Times  where else but at "The End.
The Last Days Are Here Again
Eschatology: doctrine concerning the final things, such as the Second Coming of Jesus and the Last Judgment.
Why study it?
Because it is (1) biblical, (2) integral to how Christians view history, and (3) speaks to how we should live as we await the end of evil.   
The risen Jesus' last words in our Bible: "Surely I am coming soon." (Rev 22:20)
When we celebrate the Lord's Supper: "For as often as you eat this bread and drink the cup, you proclaim the Lord's death until he comes." (1 Cor 11:26)
History is linear, not circular or random. We are moving toward something: the new heaven and new earth of Rev 21-22.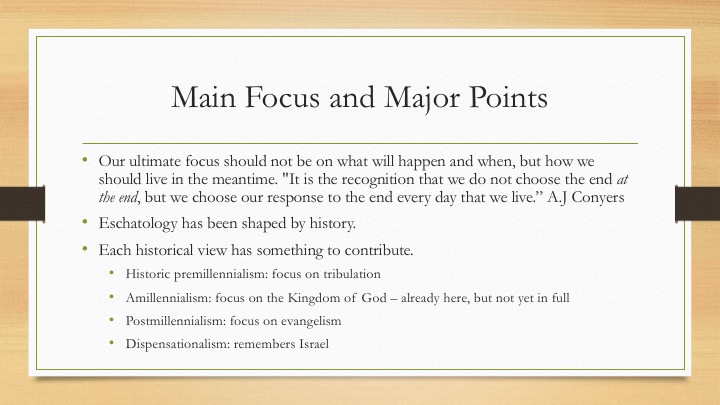 Main Focus and Major Points

Our ultimate focus should not be on what will happen and when, but how we should live in the meantime. "It is the recognition that we do not choose the end at the end, but we choose our response to the end every day that we live." A.J Conyers
Eschatology has been shaped by history.
Each historical view has something to contribute.
     •Historic premillennialism: focus on tribulation.
     •Amillennialism: focus on the Kingdom of God – already here, but not yet in full.
     •Postmillennialism: focus on evangelism.
     •Dispensationalism: remembers Israel.
Back to the Future in Thessalonica

The tomb was barely empty before Paul had to tell the new church in Thessalonica to "cool their jets" about the Parousia (Second Coming of Jesus).
As early as 49-51 AD, we have a group of people who decide to quit their jobs while waiting for Jesus to return.
     2 Thess 3:6-12
6 Now we command you, brothers, in the name of our Lord Jesus Christ, that you keep away from any brother who is walking in idleness and not in accord with the tradition that you received from us. 7 For you yourselves know how you ought to imitate us, because we were not idle when we were with you, 8 nor did we eat anyone's bread without paying for it, but with toil and labor we worked night and day, that we might not be a burden to any of you. 9 It was not because we do not have that right, but to give you in ourselves an example to imitate. 10 For even when we were with you, we would give you this command: If anyone is not willing to work, let him not eat. 11 For we hear that some among you walk in idleness, not busy at work, but busybodies. 12 Now such persons we command and encourage in the Lord Jesus Christ to do their work quietly and to earn their own living.
But First Things First: 1 Thessalonians
Perhaps Paul should take some of the blame for the false excitement he had to quell in 2 Thessalonians.
Each chapter in 1 Thessalonians ends with a reference to the Parousia.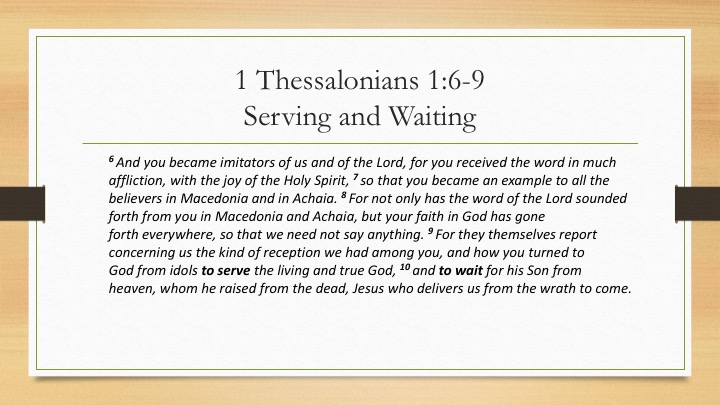 1 Thessalonians 1:6-9

Serving and Waiting
6 And you became imitators of us and of the Lord, for you received the word in much affliction, with the joy of the Holy Spirit, 7 so that you became an example to all the believers in Macedonia and in Achaia. 8 For not only has the word of the Lord sounded forth from you in Macedonia and Achaia, but your faith in God has gone forth everywhere, so that we need not say anything. 9 For they themselves report concerning us the kind of reception we had among you, and how you turned to God from idols to serve the living and true God, 10 and to wait for his Son from heaven, whom he raised from the dead, Jesus who delivers us from the wrath to come.
1 Thessalonians 1:6-9
Serving and Waiting
Serving and waiting: the key traits of genuine Christian conversion
Serving: getting busy for Christ on earth
Waiting: looking for Him to come from Heaven
Serving and waiting go hand in hand. We can't do it all by ourselves, but we can't just sit there either.
1 Thessalonians 2:17-20
Joy and Glory
17 But since we were torn away from you, brothers, for a short time, in person not in heart, we endeavored the more eagerly and with great desire to see you face to face, 18 because we wanted to come to you—I, Paul, again and again—but Satan hindered us. 19 For what is our hope or joy or crown of boasting before our Lord Jesus at his coming? Is it not you? 20 For you are our glory and joy.
Paul's joy is in this world - the present – in the form of the Thessalonians whom Christ, through Paul's ministry, has transformed.
Glory is in the next world – the future – when Christ comes again.
1 Thessalonians 3:11-13
A Prayer
11 Now may our God and Father himself, and our Lord Jesus, direct our way to you, 12 and may the Lord make you increase and abound in love for one another and for all, as we do for you, 13 so that he may establish your hearts blameless in holiness before our God and Father, at the coming of our Lord Jesus with all his saints.
There is no greater stimulus to holiness than the vision of the Parousia.
Sanctification is a process in the present.
Perfection awaits the Parousia.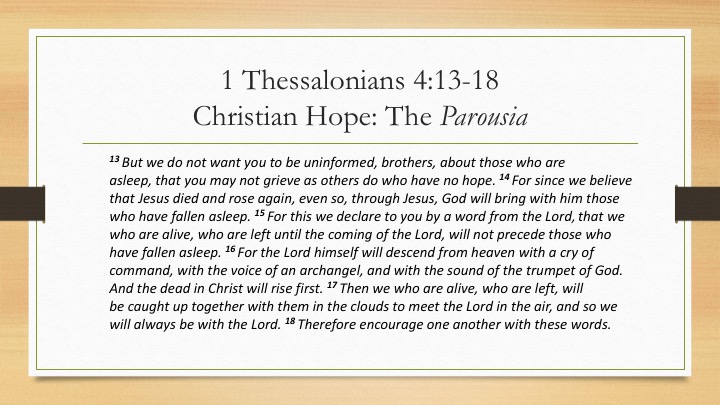 1 Thessalonians 4:13-18
Christian Hope: The Parousia
13 But we do not want you to be uninformed, brothers, about those who are asleep, that you may not grieve as others do who have no hope. 14 For since we believe that Jesus died and rose again, even so, through Jesus, God will bring with him those who have fallen asleep. 15 For this we declare to you by a word from the Lord, that we who are alive, who are left until the coming of the Lord, will not precede those who have fallen asleep. 16 For the Lord himself will descend from heaven with a cry of command, with the voice of an archangel, and with the sound of the trumpet of God. And the dead in Christ will rise first. 17 Then we who are alive, who are left, will be caught up together with them in the clouds to meet the Lord in the air, and so we will always be with the Lord. 18 Therefore encourage one another with these words.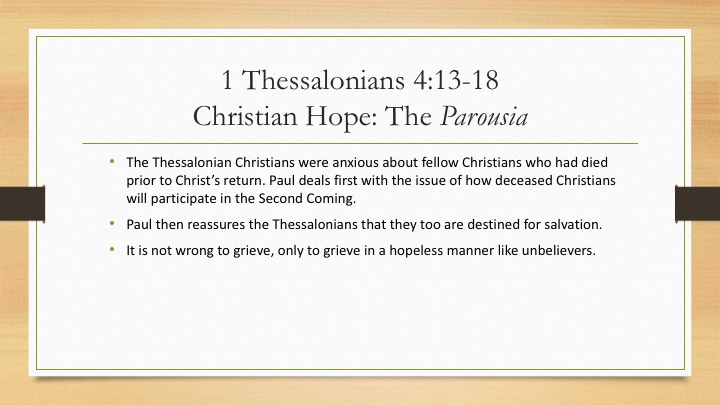 1 Thessalonians 4:13-18
Christian Hope: The Parousia
The Thessalonian Christians were anxious about fellow Christians who had died prior to Christ's return. Paul deals first with the issue of how deceased Christians will participate in the Second Coming.
Paul then reassures the Thessalonians that they too are destined for salvation.
It is not wrong to grieve, only to grieve in a hopeless manner like unbelievers.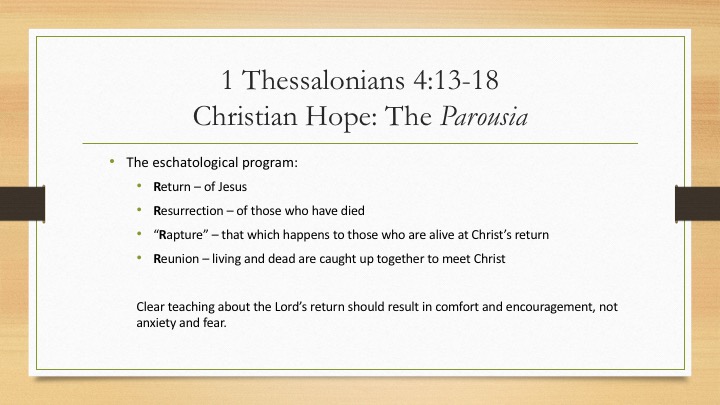 1 Thessalonians 4:13-18
Christian Hope: The Parousia
The eschatological program:
Return – of Jesus
Resurrection – of those who have died
"Rapture" – that which happens to those who are alive at Christ's return
Reunion – living and dead are caught up together to meet Christ
Clear teaching about the Lord's return should result in comfort and encouragement, not anxiety and fear.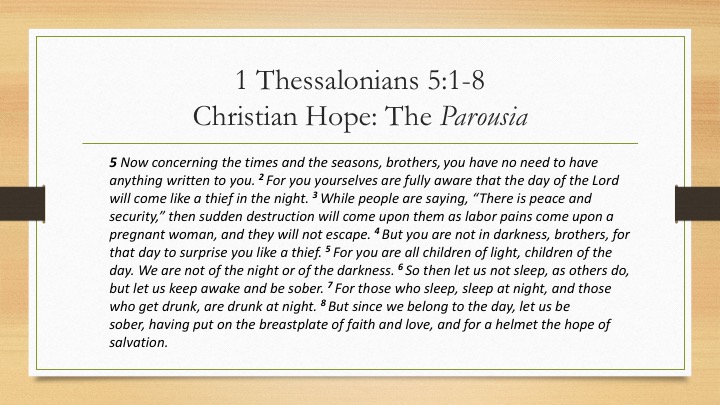 1 Thessalonians 5:1-8
Christian Hope: The Parousia
5 Now concerning the times and the seasons, brothers, you have no need to have anything written to you. 2 For you yourselves are fully aware that the day of the Lord will come like a thief in the night. 3 While people are saying, "There is peace and security," then sudden destruction will come upon them as labor pains come upon a pregnant woman, and they will not escape. 4 But you are not in darkness, brothers, for that day to surprise you like a thief. 5 For you are all children of light, children of the day. We are not of the night or of the darkness. 6 So then let us not sleep, as others do, but let us keep awake and be sober. 7 For those who sleep, sleep at night, and those who get drunk, are drunk at night. 8 But since we belong to the day, let us be sober, having put on the breastplate of faith and love, and for a helmet the hope of salvation.
1 Thessalonians 5:1-8
The Day of the Lord: Judgment
How are we to get ready for Christ's return?
The wrong answer: date setting (not even Jesus in his humanity knew the day or the hour. Mark 13:32)
The right answer: staying alert ("Be on guard, keep awake." Mark 13:33)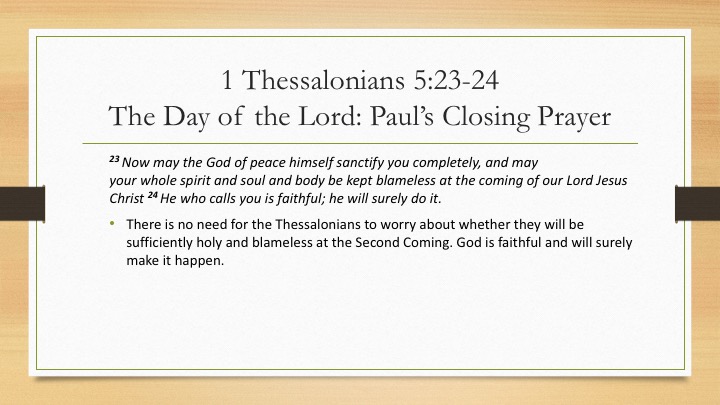 1 Thessalonians 5:23-24
The Day of the Lord: Paul's Closing Prayer
23 Now may the God of peace himself sanctify you completely, and may your whole spirit and soul and body be kept blameless at the coming of our Lord Jesus Christ 24 He who calls you is faithful; he will surely do it.
There is no need for the Thessalonians to worry about whether they will be sufficiently holy and blameless at the Second Coming. God is faithful and will surely make it happen.
The End Times - Lesson I