The End Times - Lesson II
Chris Knepp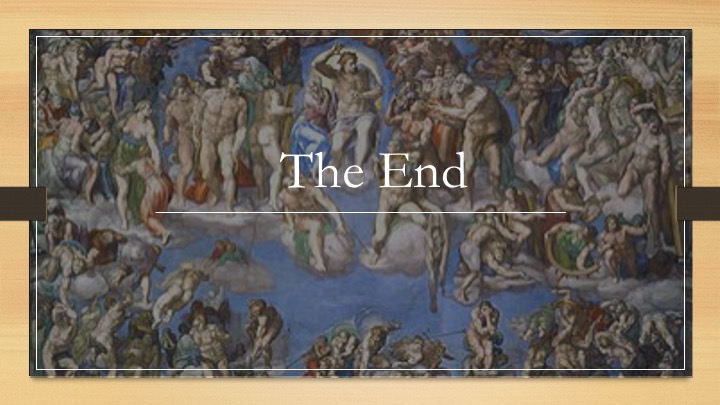 2 Thessalonians
More About the Second Coming
2 Thessalonians addresses three groups of people who were disturbing the Thessalonians church:
       (1) Persecutors
       (2) False teachers
       (3) Idlers
2 Thessalonians 1:5-10
Persecution
5 This is evidence of the righteous judgment of God, that you may be considered worthy of the kingdom of God, for which you are also suffering— 6 since indeed God considers it just to repay with affliction those who afflict you, 7 and to grant relief to you who are afflicted as well as to us, when the Lord Jesus is revealed from heaven with his mighty angels 8 in flaming fire, inflicting vengeance on those who do not know God and on those who do not obey the gospel of our Lord Jesus. 9 They will suffer the punishment of eternal destruction, away from the presence of the Lord and from the glory of his might, 10 when he comes on that day to be glorified in his saints, and to be marveled at among all who have believed, because our testimony to you was believed.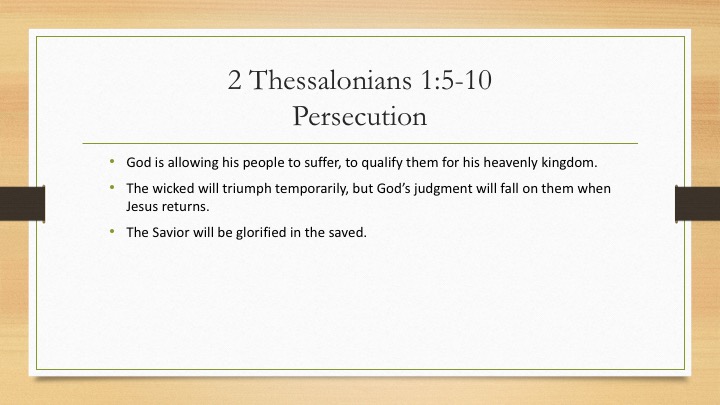 2 Thessalonians 1:5-10
Persecution
God is allowing his people to suffer, to qualify them for his heavenly kingdom.
The wicked will triumph temporarily, but God's judgment will fall on them when Jesus returns.
The Savior will be glorified in the saved.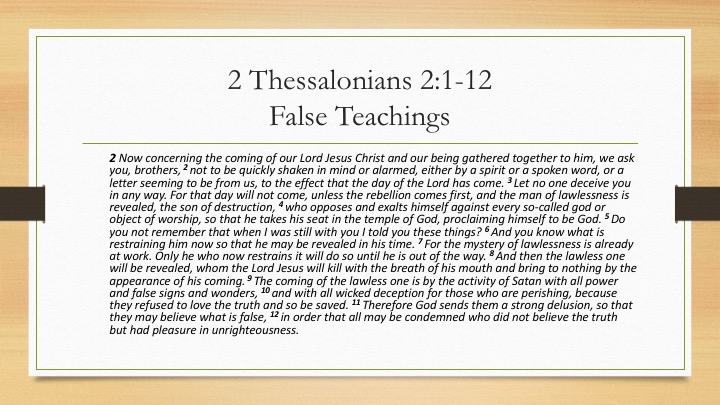 2 Thessalonians 2:1-12
False Teachings
2 Now concerning the coming of our Lord Jesus Christ and our being gathered together to him, we ask you, brothers, 2 not to be quickly shaken in mind or alarmed, either by a spirit or a spoken word, or a letter seeming to be from us, to the effect that the day of the Lord has come. 3 Let no one deceive you in any way. For that day will not come, unless the rebellion comes first, and the man of lawlessness is revealed, the son of destruction, 4 who opposes and exalts himself against every so-called god or object of worship, so that he takes his seat in the temple of God, proclaiming himself to be God. 5 Do you not remember that when I was still with you I told you these things? 6 And you know what is restraining him now so that he may be revealed in his time. 7 For the mystery of lawlessness is already at work. Only he who now restrains it will do so until he is out of the way. 8 And then the lawless one will be revealed, whom the Lord Jesus will kill with the breath of his mouth and bring to nothing by the appearance of his coming. 9 The coming of the lawless one is by the activity of Satan with all power and false signs and wonders, 10 and with all wicked deception for those who are perishing, because they refused to love the truth and so be saved. 11 Therefore God sends them a strong delusion, so that they may believe what is false, 12 in order that all may be condemned who did not believe the truth but had pleasure in unrighteousness.
2 Thessalonians 2:1-12
False Teachings
Paul refutes the false teaching that the Day of the Lord had already come.
Before that day, a final rebellion and the revelation of the "man of lawlessness" must occur.
3 stages of "the rebellion":
     A time of restraint – the power of lawlessness is held in check (the Roman Empire, the Holy Spirit, the archangel Michael?)
     A time of rebellion – the control of law is removed, and the lawless one is revealed
      A time of retribution – Jesus Christ will defeat the Antichrist (Nero, the Pope, Luther, Hitler?), and those who believed the Antichrist's lie will be condemned.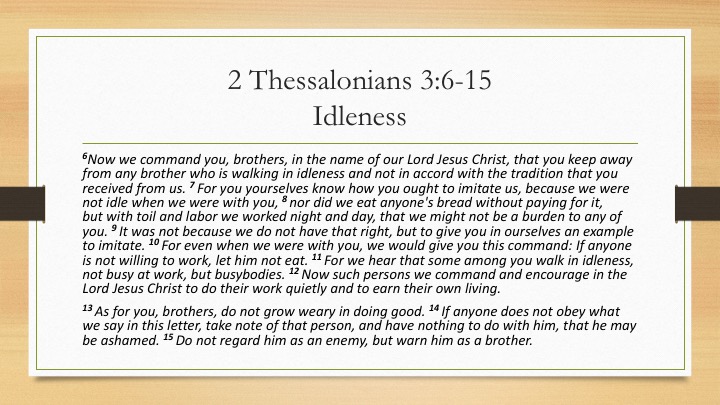 2 Thessalonians 3:6-15
Idleness
6Now we command you, brothers, in the name of our Lord Jesus Christ, that you keep away from any brother who is walking in idleness and not in accord with the tradition that you received from us. 7 For you yourselves know how you ought to imitate us, because we were not idle when we were with you, 8 nor did we eat anyone's bread without paying for it, but with toil and labor we worked night and day, that we might not be a burden to any of you. 9 It was not because we do not have that right, but to give you in ourselves an example to imitate. 10 For even when we were with you, we would give you this command: If anyone is not willing to work, let him not eat. 11 For we hear that some among you walk in idleness, not busy at work, but busybodies. 12 Now such persons we command and encourage in the Lord Jesus Christ to do their work quietly and to earn their own living.
13 As for you, brothers, do not grow weary in doing good. 14 If anyone does not obey what we say in this letter, take note of that person, and have nothing to do with him, that he may be ashamed. 15 Do not regard him as an enemy but warn him as a brother.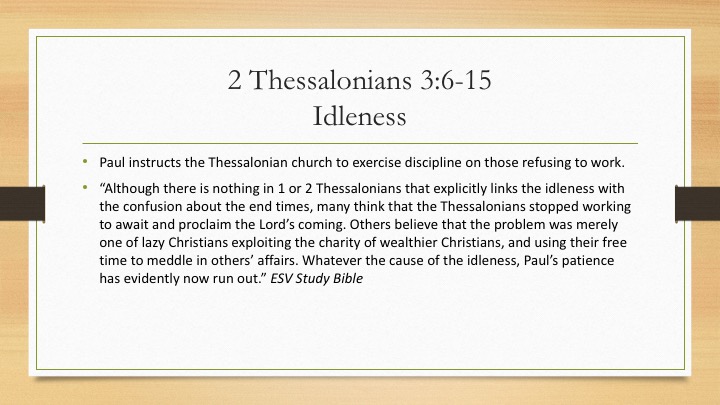 2 Thessalonians 3:6-15
Idleness
Paul instructs the Thessalonian church to exercise discipline on those refusing to work.
"Although there is nothing in 1 or 2 Thessalonians that explicitly links the idleness with the confusion about the end times, many think that the Thessalonians stopped working to await and proclaim the Lord's coming. Others believe that the problem was merely one of lazy Christians exploiting the charity of wealthier Christians, and using their free time to meddle in others' affairs. Whatever the cause of the idleness, Paul's patience has evidently now run out." ESV Study Bible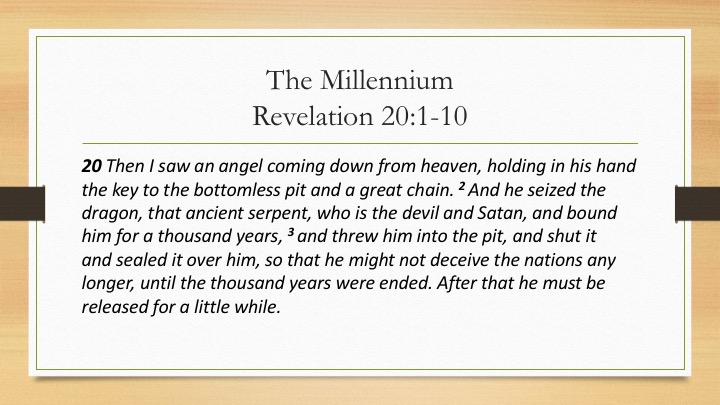 The Millennium
Revelation 20:1-10
20 Then I saw an angel coming down from heaven, holding in his hand the key to the bottomless pit and a great chain. 2 And he seized the dragon, that ancient serpent, who is the devil and Satan, and bound him for a thousand years, 3 and threw him into the pit, and shut it and sealed it over him, so that he might not deceive the nations any longer, until the thousand years were ended. After that he must be released for a little while.
The Millennium
Revelation 20:1-10
4 Then I saw thrones, and seated on them were those to whom the authority to judge was committed. Also I saw the souls of those who had been beheaded for the testimony of Jesus and for the word of God, and those who had not worshiped the beast or its image and had not received its mark on their foreheads or their hands. They came to life and reigned with Christ for a thousand years. 5 The rest of the dead did not come to life until the thousand years were ended. This is the first resurrection. 6 Blessed and holy is the one who shares in the first resurrection! Over such the second death has no power, but they will be priests of God and of Christ, and they will reign with him for a thousand years.
The Millennium
Revelation 20:1-10
7 And when the thousand years are ended, Satan will be released from his prison 8 and will come out to deceive the nations that are at the four corners of the earth, Gog and Magog, to gather them for battle; their number is like the sand of the sea. 9 And they marched up over the broad plain of the earth and surrounded the camp of the saints and the beloved city, but fire came down from heaven and consumed them, 10 and the devil who had deceived them was thrown into the lake of fire and sulfur where the beast and the false prophet were, and they will be tormented day and night forever and ever.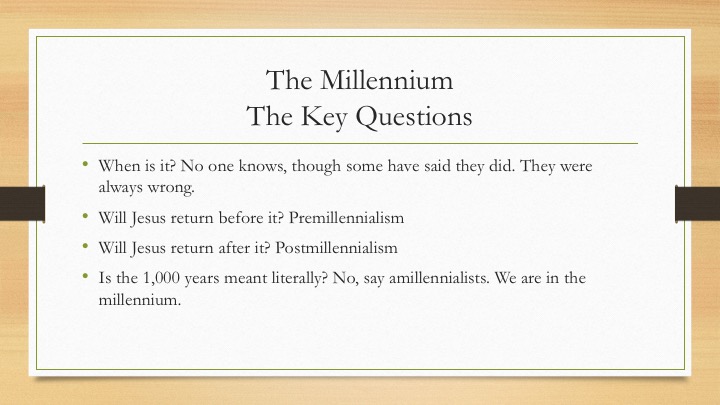 The Millennium
The Key Questions
When is it? No one knows, though some have said they did. They were always wrong.
Will Jesus return before it? Premillennialism
Will Jesus return after it? Postmillennialism
Is the 1,000 years meant literally? No, say amillennialists. We are in the millennium.
The Millennium
The Early Church
There is a clear connection between eschatology and the church's perception of itself in history.
As we have seen, by c. 50 , a diversity of end times views already existed.
For the first 200 years or so of church history, Christians expected Christ's return "soon." It had become clear that 1,000 years of blessedness and peace had not begun with Christ's resurrection – they were enduring tribulation - so perhaps it was his Second Coming that would kick it off.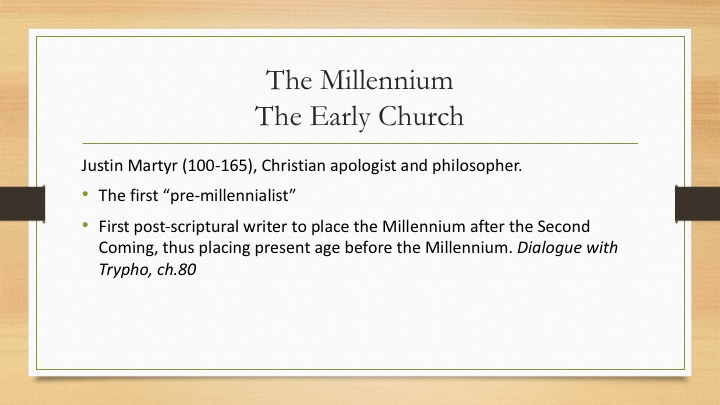 The Millennium
The Early Church
Justin Martyr (100-165), Christian apologist and philosopher.
The first "pre-millennialist"
First post-scriptural writer to place the Millennium after the Second Coming, thus placing present age before the Millennium. Dialogue with Trypho, ch.80
The Millennium
Historic Premillennialism
The order of events:
Age of Israel
First Coming
Church Age
Second Coming (following Tribulation - no pretribulation rapture)
Millennium
Final Judgment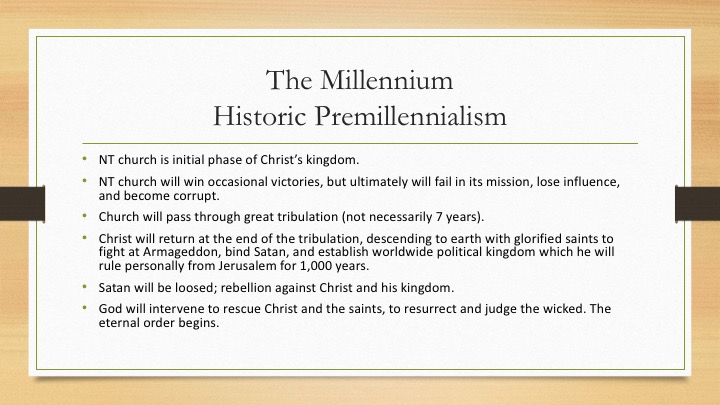 The Millennium
Historic Premillennialism
NT church is initial phase of Christ's kingdom.
NT church will win occasional victories, but ultimately will fail in its mission, lose influence, and become corrupt.
Church will pass through great tribulation (not necessarily 7 years).
Christ will return at the end of the tribulation, descending to earth with glorified saints to fight at Armageddon, bind Satan, and establish worldwide political kingdom which he will rule personally from Jerusalem for 1,000 years.
Satan will be loosed; rebellion against Christ and his kingdom.
God will intervene to rescue Christ and the saints, to resurrect and judge the wicked. The eternal order begins.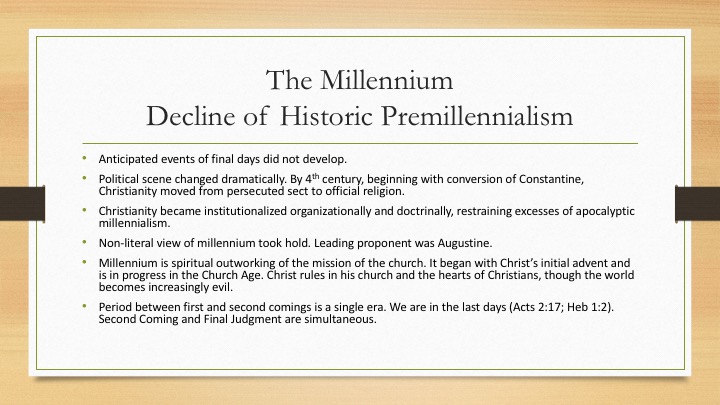 The Millennium
Decline of Historic Premillennialism
Anticipated events of final days did not develop.
Political scene changed dramatically. By 4th century, beginning with conversion of Constantine, Christianity moved from persecuted sect to official religion.
Christianity became institutionalized organizationally and doctrinally, restraining excesses of apocalyptic millennialism.
Non-literal view of millennium took hold. Leading proponent was Augustine.
Millennium is spiritual outworking of the mission of the church. It began with Christ's initial advent and is in progress in the Church Age. Christ rules in his church and the hearts of Christians, though the world becomes increasingly evil.
Period between first and second comings is a single era. We are in the last days (Acts 2:17; Heb 1:2). Second Coming and Final Judgment are simultaneous.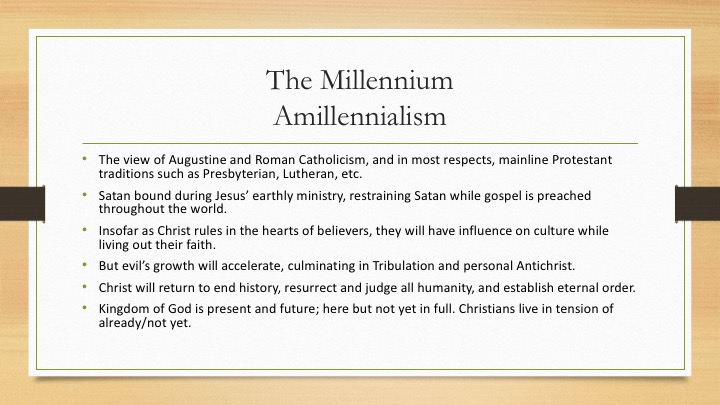 The Millennium
Amillennialism
The view of Augustine and Roman Catholicism, and in most respects, mainline Protestant traditions such as Presbyterian, Lutheran, etc.
Satan bound during Jesus' earthly ministry, restraining Satan while gospel is preached throughout the world.
Insofar as Christ rules in the hearts of believers, they will have influence on culture while living out their faith.
But evil's growth will accelerate, culminating in Tribulation and personal Antichrist.
Christ will return to end history, resurrect and judge all humanity, and establish eternal order.
Kingdom of God is present and future; here but not yet in full. Christians live in tension of already/not yet.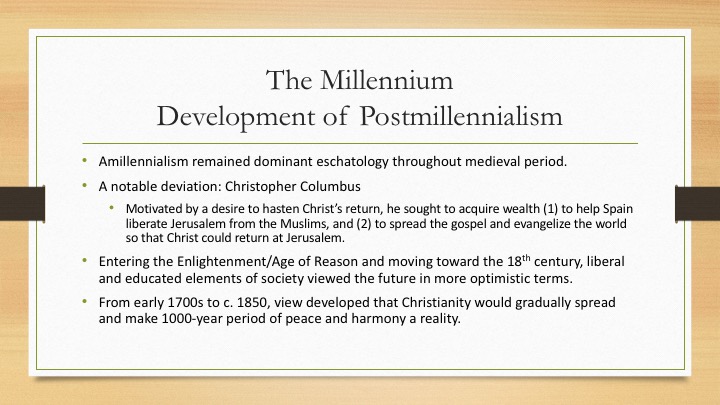 The Millennium
Development of Postmillennialism
Amillennialism remained dominant eschatology throughout medieval period.
A notable deviation: Christopher Columbus
Motivated by a desire to hasten Christ's return, he sought to acquire wealth (1) to help Spain liberate Jerusalem from the Muslims, and (2) to spread the gospel and evangelize the world so that Christ could return at Jerusalem.
Entering the Enlightenment/Age of Reason and moving toward the 18th century, liberal and educated elements of society viewed the future in more optimistic terms.
From early 1700s to c. 1850, view developed that Christianity would gradually spread and make 1000-year period of peace and harmony a reality.
The Millennium
Postmillennialism
Postmillennialism: an American phenomenon, lasting from the colonial era to the Civil War.
Human efforts would usher in the Millennium. The Great Commission would succeed. History will then close with personal, visible, bodily return of Christ, along with resurrection and judgment.
Early Puritans saw New England as the New Jerusalem, the City on a Hill. Europe was not up to the task!
First clearly articulated by Jonathan Edwards during the Great Awakening: " 'Tis not unlikely that this work of God's Spirit, that is so extraordinary and wonderful, is the dawning, or at least a prelude, of that glorious work of God, so often foretold in Scripture…. And there are many things that make it probable that this work will begin in America."
The Millennium
Postmillennialism
Edwards (1703-1758): "This is a work that will be accomplished by means, by the preaching of the gospel, and the use of the ordinary means of grace, and so shall be gradually brought to pass." (Somewhere around the year 2000, he believed.)
Charles Finney (1792-1875): "If the church will do her duty the Millennium may come in this country in three years."
All this led to unprecedented evangelical social and religious reform in years before the Civil War: temperance, antislavery, women's rights, education, expansion in domestic and foreign mission work.
American Civil War burst the postmillennial bubble; the 20th century was no kinder.
The Millennium
Postmillennialism: A Notable Exception
William Miller (1782-1849): Convinced that Christ would return and cleanse the earth between March 21, 1843, and March 21, 1844. Key to his biblical arithmetic was Daniel 8:14. ("Unto 2,300 days; then shall the sanctuary be cleansed." Richard Kyle, The Last Days are Here Again, p. 89
His preaching spawned the most popular end-time movement in American history (maybe as many as 100,000 followers)
Ended in the Great Disappointment
Spawned Seventh-day Adventist Church
The End Times - Lesson II